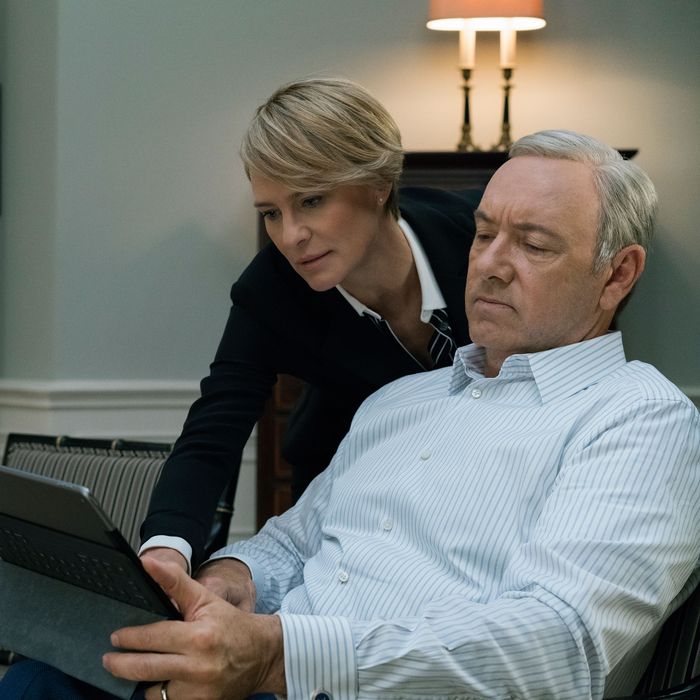 Spoilers ahead for season five of House of Cards.
The fifth season of House of Cards was possibly its most ruthless yet, even by the show's standards. Poor Tom Yates (Paul Sparks) died in Claire's (Robin Wright) arms while having sex with her after she poisoned him. Aidan MacAllan (Damian Young) died in a hotel room from a gunshot to his eye, though Jane (Patricia Clarkson) really wants us to believe it was a suicide. An anti-war protester scales the White House fence and is shot and killed on the lawn.
But was there a fourth death? In the season finale, after the Underwoods have taken what they needed of LeAnn Harvey (Neve Campbell) and gone back on their promise to make her President Claire Underwood's chief of staff, viewers see her being tailed while driving and then run off the road. The accident itself is not shown, and we don't see LeAnn again, but Frank Underwood (Kevin Spacey), who has been watching on his laptop, sums it up for the viewer: "Sometimes you don't have to watch the whole movie to know how it ends." An image of the mangled car is shown later.
Frank doesn't leave much room to doubt LeAnn's fate. But in a Vulture interview with Campbell, who joined the show in its fourth season, things got a little murky.
Asked if LeAnn's fate was designed to be open-ended, as some fans and entertainment sites have pondered, Campbell first said she didn't think so. The actress, who started her career on Party of Five and has been selective about taking on new long-term TV roles, said she knew halfway through the season how things would turn out for LeAnn. "To be honest, it was a choice for me," she said.
When asked to clarify if that meant she asked to leave the show, Campbell replied, "Well, actually, you know what, I'm not going to get into it. But it is what it is. I'm sorry."
Vulture asked showrunners Melissa James Gibson and Frank Pugliese if viewers should be mourning LeAnn. Their response, sent via e-mail, was no more enlightening: "All will be revealed in time."