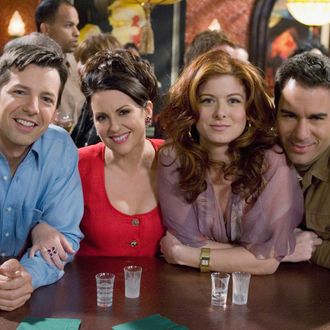 Photo: Chris Haston/NBC via Getty Images
As much as viewers were pleased with the news of NBC's darling Will & Grace being revived for a ten-part limited series this fall, there was a bit of head-scratching after the revelation that it would actually be set in 2017: In the series finale, didn't our protagonists Will and Grace break up as friends? And didn't they not see each other and rekindle their friendship until their children coincidentally move into the same college dorm 20 years later? If you're confused, don't overthink it too much, as the show's co-creators Max Mutchnick and David Kohan apparently have a plan to clear things up.
"I would say this: We've just come out of a story camp that lasted about three months," Mutchnick told E! News. "I will tell you that almost more than anything, more time went into figuring out how are we going to reintroduce the show and what were the rules going to be and how were we going to address that finale … and we can tell you this much: They are very much living in that apartment in 2017 in the month of September, on the 28th of September at 9:00. That's when you're going to meet up with them again and they are going to explain to you exactly what happened so you know the rules moving forward and you won't feel like anything is left open." Alternate universe? Dream sequence? Make your bets now!