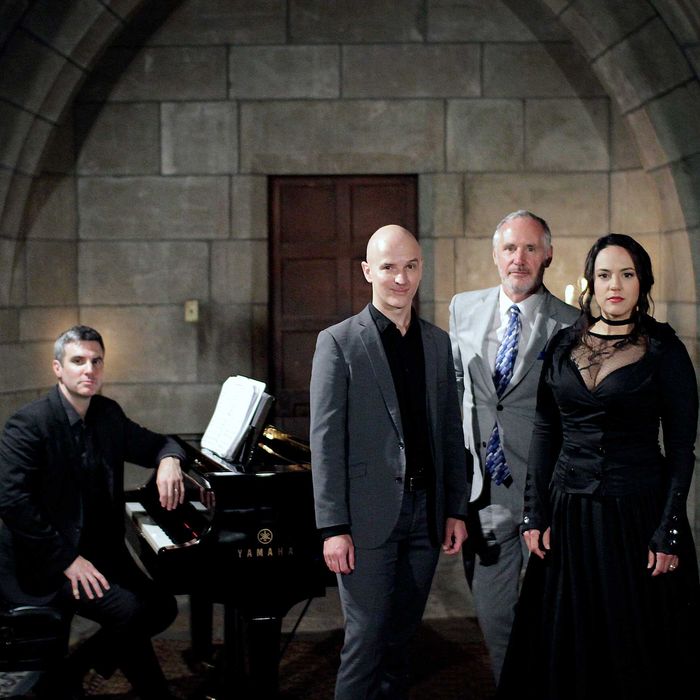 In the crypt, at the Crypt Sessions.
Photo: Andrew Ousley
You almost certainly weren't there in the crypt where the mezzo-soprano sang morbid lullabies and songs of murder — so few people were. (Living people, anyway.) Had you been tempted, you would probably have been excluded; the 50 slots were snapped up almost as soon as the concert was announced. Even so, you might want to hear about one of those sensitively programmed miniature events in which music and architecture almost meld.
The musical life of New York takes place not only, or even mostly, in its great halls and juggernaut institutions, but also in repurposed corners, for crowds that numbers in the dozens. This city is powered by a dearth of real estate and a surfeit of talent, which is why even such tiny events can seem outsize — why, for instance, Daniela Mack, whose amber voice usually billows through vast halls and opera houses, found herself keeping company with ghosts in a stone chamber below the Church of the Intercession in Harlem. Underground music among tombs has a natural appeal: The crypt below St. Martin-in-the-Fields in London, too, hosts a popular jazz festival. Here, the gothic vaults that harbor the ashes of the dead also enliven sound, coating melodies in a reverberant glow while leaving a core of clarity.
In this finale of the Crypt Sessions' second season, Mack joined with tenor Joseph Gaines and pianist-composer Kevin Puts for perfectly calibrated hour-long concert that made old music sound vivid and a new work sound as if it had been there all along, just waiting to be revealed. Mack opened with Britten's A Charm of Lullabies, the sort of bewitchingly sinister tunes that would make a sensitive child sit up shrieking. "Quiet! Sleep! or I will make Erinnys whip thee with a snake," begins the 17th-century text of the fourth song, which Britten sets against a shivering piano. Gaines, a tenor with a light, dangerously honed voice and a diabolical stage presence, sang Tel jour telle nuit, Poulenc's setting of verse by the symbolist poet of Paul Éluard. An empty shell, a lost flag, nocturnal glimmerings — Gaines didn't miss an opportunity to give each syllable and image its full portion of creepiness.
These English and French fantasies on decay served as mood-setters for an excerpt from Elizabeth Cree, a new opera by Puts and librettist Mark Campbell that squeezes enough ghoulish horror out of Victorian London to suggest a pendant to Sweeney Todd. With a score full of diabolical music-hall numbers and dreamy, seductive arias about butchery and woe, the opera promises a macabre romp. (It receives its world premiere at Opera Philadelphia in September.)
The Crypt Sessions were created by Andrew Ousley, a classical music publicist who first walked into the room last year and instantly thought of three sublimely tragic pieces he wanted to hear there: Beethoven's Op. 132 String Quartet, Arvo Pärt's Spiegel im Spiegel, and "When I Am Laid in Earth," the Purcell aria known as "Dido's Lament." He finally got to hear that last song when Mack offered it up as an encore, and it was surely worth the wait. She intensified its luscious love of death with the dark radiance of her voice, then sent her small but grateful audience back above ground.