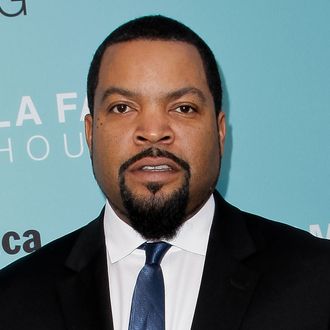 Ice Cube.
Photo: Tibrina Hobson/Getty Images
Many condemned Bill Maher after the Real Time host used the N-word in conversation with Senator Ben Sasse on the show last Friday. But while scheduled guest Al Franken decided to cancel his upcoming appearance, Ice Cube, who was scheduled to appear on Real Time this Friday before Maher's comments, has decided to remain on the show. "You'll see me there Friday," Ice Cube told Rolling Stone, "and I'll say what I gotta say."
"It's just not funny to diss at least the ones who got it fucked up," he said of Maher's use of the slur. "And it's like rich, white guys are the reason why black people are in the position they're in. You're supposed to be a champion, or you're supposed to be a liberal, but racism lives in both parties." Real Time airs tomorrow at 10 p.m. Expect a lively discussion.