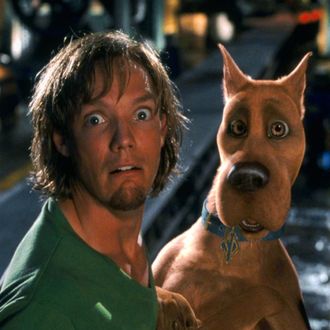 Jeepers! As has long been rumored, Warner Bros.' live-action Scooby-Doo movie was indeed originally an R-rated comedy. On the 15th anniversary of the movie's opening, James Gunn revealed on Facebook what would've been in the R-rated cut the studio didn't release. Gunn wrote the script for the movie, which he said was initially packed with edgier jokes aimed at a different demographic. When the first cut got an R from the MPAA, the studio edited the Scooby movie — including using CGI to cover up actress's cleavage — to a PG rating. Read Gunn's memories below:
Incredible. 15 years ago today the first Scooby-Doo: The Movie opened. For those of you who don't know, I wrote the screenplay for this film, and it was my first studio film, only having made Tromeo and Juliet and The Specials (film) before it. I had loved the character of Scooby-Doo since I was a kid and was excited at the prospect of making a live action film with 2002's cutting CGI technology(!!). Yes, it was not exactly what we planned going out - I had written an edgier film geared toward older kids and adults, and the studio ended pushing it into an clean cut children's film. And, yes, the rumors are true - the first cut was rated R by the MPAA, and the female stars' cleavage was CGI'd away so as not to offend. But, you know, such is life. I had a lot of fun making this movie, regardless of all that. And I was also able to eat, buy a car, and a house because of it.
Gunn has moved onto bigger and better things (Guardians of the Galaxy), but he recalled that Scooby's opening was a turning point in his career. He made friends with Linda Cardellini and Matthew Lillard, played Nerf gun tag at the house Freddie Prinze Jr. and Sarah Michelle Gellar rented in Australia during production, and had his first big hit.
At about 5:30 Saturday morning opening weekend Lorenzo DiBonaventura - the head of production at Warners, and one of the people who gave me my start - called me and woke me up at home to tell me we made 18 million the Friday before. Now that doesn't seem to be all that much today - Guardians will make around that on a Thursday night alone - but back then it was enough to make the movie the biggest June opening ever. Until that moment, I thought if the movie came out and didn't do well I'd be able to continue getting writing jobs, and my life was going to be the same. But in that one single moment I knew everything had changed.