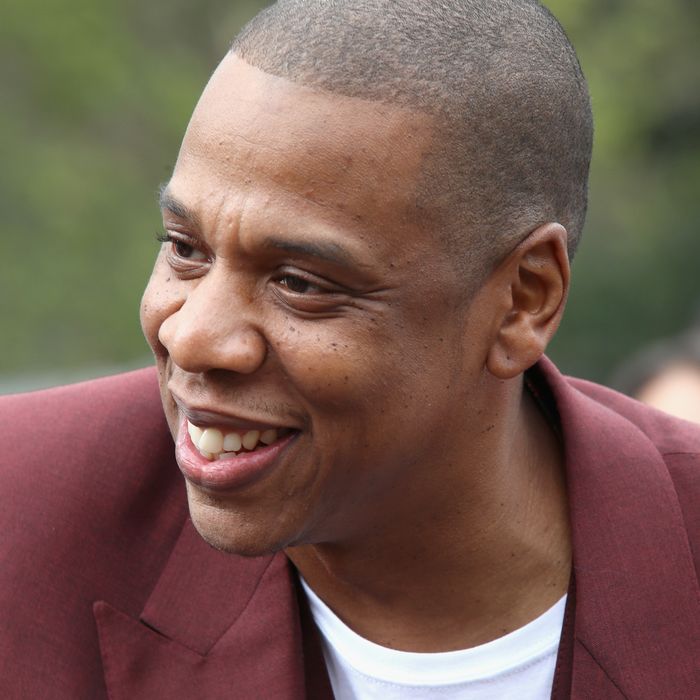 It's time to dig in.
Photo: Ari Perilstein/Getty Images for Roc Nation
Let's get straight to it, shall we? Jay-Z's 13th solo album, 4:44, is here, and yes, it addresses head-on all the betrayal Beyoncé divulged on Lemonade. In ten tracks clocking in at just over 35 minutes, Hov makes short work of releasing his most confessional body of work to date. With a feature from Beyoncé, and spoken bits from their daughter Blue Ivy and Jay's mother, Gloria Carter, the album also ranks among the rapper's most personal. It's a family — ahem — affair, but others were invited into his creative home to build this album. Let's dive into the nuts and bolts.
According to the album's main producer No I.D. (more on him below), 4:44 was made fairly recently. Jay-Z didn't begin recording the album until last December, and was still working on it as recently as the week of its release. "We did [the line about Al Sharpton's mirror selfies] maybe Monday? Maybe Tuesday," he says. No. I.D. completed work on the album on Thursday, the day it went live on Tidal. Going into the album, No I.D. says it was neither Jay nor his team's intention to make the entire album a Lemonade response. "We never directly spoke about that album. Mainly because if he talks about himself, it's going to bleed into that regardless. But there's a difference in talking about it for the sake of response and for the sake of honesty and the truth," he says. "The truth needs to explain why you are the way you are, why you did what you did. We know what happened. We got it. But what were the circumstances that led to this and how do you feel about it?"
Instead, I.D. wanted Hov to address Lemonade briefly and then move on, which resulted in the emotionally raw title track. "We just wanted him to respond and then let it be and still touch on other things. I created that beat to box him into telling that story … He went home, wakes up at 4:44 [a.m.] and calls Guru over [to record]. I was blown away. I just walked out of the studio and wanted to go find my wife and hug her. I told him that's the best song he's ever written."
No I.D. says Jay-Z told him his mission for 4:44 was to "do an album where I talk about the things that I've never talked about." This is how their creative process followed: "Conversation, ideas in the morning, treadmill, coming in to talk about it, and then we'd lace something or not lace something. It was almost like a therapy session for all of us."
The first hint of 4:44's existence came in early June with mysterious ads from Tidal promoting nothing else but that timestamp. Eventually, teasers for an NC-17 film starring Mahershala Ali, Lupita Nyong'o, and Danny Glover (which has yet to materialize in full) called 4:44 cropped up. Several more teasers for the visual project followed — as did leaks of photos of other actors like Emile Hersch and Jesse Williams supposedly involved with the visual component — with a later announcement of the album. No I.D. says the album was originally targeted for April 4 (Beyoncé and Jay-Z's wedding anniversary), but "circumstances slowed it down." On June 30, 4:44 was released as both a Tidal and Sprint exclusive. Anyone who subscribed to Tidal before June 26 reportedly gained access to the album; the rest, however, will only get the album if they sign up for Tidal through Sprint. This window of exclusivity will reportedly expire in a week, and the album will then be made widely available.
In addition to streaming on Tidal, 4:44 will play in full on loop for 24 hours (until July 1) across various rap-focused U.S. radio stations through a partnership between iHeartRadio and Roc Nation. According to the album's engineer Young Guru (more on him below), a physical edition of the album is in the works, which will include unreleased songs like "Adnis" heard in the teasers. No I.D. adds that three more songs, including ones that involved James Blake, will be released as bonuses "shortly" that are "equally as revealing."
Jay-Z: He's credited as the executive-producer of his own album, as almost always has been the case.
No. I.D.: The legendary Chicago beat architect and Capitol Music Group exec produced every single song on 4:44, which is a first for Jay-Z. The two last collaborated on 2013's "Holy Grail." "It was a real artist-producer relationship on a traditional level," No I.D. has said of the 4:44 recording process. "I think it's something we need more of in all music. It wasn't until the mid-90s that we even started this concept of multiple producers on projects."
Beyoncé: In many ways, Beyoncé is the central figure of 4:44. She's seemingly for whom much of the album was written, and she adds ethereal vocals (and a few strategic "amens") to the intimate airing-out of the Carters' dirty laundry, "Family Feud." According to No I.D., Beyoncé also assisted in the making of the album and appears to have approved certain songs: "I always call Bey our de facto A&R. Pillow talk is the strongest conversation on the planet. Every song has to get past her ears, in my eyes. She came by a lot and played a good part in helping us get over hurdles on certain records. Of course she's genius-level with that."
Gloria Carter: Prior to 4:44's release, Jay had teased a song called "Adnis," named after his father. But on the album, it's his mother who shows up. "Smile" tells the story of Gloria Carter living as a closeted lesbian all her life, then absolves her of forced silence by giving her a voice at the song's end. Gloria closes "Smile" with a poem that doubles as her public coming out:
Living in the shadow

Can you imagine what kind of life it is to live?

In the shadows people see you as happy and free

Because that's what you want them to see

Living two lives, happy, but not free

You live in the shadows for fear of someone hurting your family or the person you love

The world is changing and they say it's time to be free

But you live with the fear of just being me

Living in the shadow feels like the safe place to be

No harm for them, no harm for me

But life is short, and it's time to be free

Love who you love, because life isn't guaranteed

Smile
Blue Ivy Carter: As she's wont to do, Jay-Z and Beyoncé's oldest child has popped up on another one of her parents' albums. This time, Blue provides the opening to "Legacy," with a simple, innocent question that has only complicated, mature answers: "Daddy, what's a will?"
Frank Ocean: Another Jay-Z album, another Frank Ocean feature. This is the third Hov album, following Watch the Throne and Magna Carta Holy Grail, that Frank Ocean is featured on. He sings here on "Caught Their Eyes."
Damian Marley: Recently, photos of Jay-Z in Kingston, Jamaica, surfaced — though it's unclear when they were taken — which showed the rapper in the Marleys' Tuff Gong Studios with Damian Marley and reggae legend Sister Nancy. Marley confirmed they were working on a song for Hov's album, and we now know it was "Bam," which samples Sister Nancy's "Bam Bam."
Kim Burrell: Despite being filmed making inflammatory homophobic comments, gospel singer Kim Burrell was featured on Frank Ocean's "Godspeed" last year. She curiously shows up again as a background singer on "4:44," just moments after Jay-Z's mom preaches a word of her own about true freedom for queer people.
The-Dream: A longtime collaborator of the Carters, The-Dream sings background vocals on "Marcy Me."
Young Guru: A trusted member of the Def Jam and Roc-A-Fella family, Young Guru engineered 4:44, like so many of Jay-Z's albums.
Steve Wyreman: No. I.D.'s production value on 4:44 would not be what it is without the instrumentals to back it up. Almost all of the guitars, pianos, bass, synths, and even organs you hear on songs like "Story of O.J.," "Bam," and "Marcy Me" were played by Steve Wyreman (of No. I.D.'s own Cocaine 80s collective).
As part of Roc Nation's deal with iHeartRadio to stream the album countrywide on radio for 24 hours, Hov provided his own brief song descriptions. They are unsurprisingly vague, although somewhat useful. (Fun fact: 4:44 got its name from Jay-Z waking up at 4:44 a.m. to "write" the title track.) Here are his annotations for each song:
All the water-cooler talk around the world on Friday will likely revolve around every line Jay-Z speaks on this album seemingly in response to Beyoncé's Lemonade, particularly his admission of infidelity (by way of a reference to Eric Benét cheating on Halle Berry, and the return of the infamous "Becky With the Good Hair") and that Solange's actions in that elevator were justified. These are just a few of the highlights you'll want to memorize and analyze before speaking to anyone this weekend:
"Kill Jay-Z": "You egged Solange on / Knowin' all along, all you had to say you was wrong / You almost went Eric Benét / Let the baddest girl in the world get away / I don't even know what else to say / Nigga, never go Eric Benét."
"Family Feud": "Yeah, I'll fuck up a good thing if you let me / Let me alone, Becky."
"4:44": "And if my children knew / I don't even know what I would do / If they ain't look at me the same / I would probably die with all the shame/ 'You did what with who?' / What good is a ménage à trois when you have a soulmate? / 'You risked that for Blue?'"
"4:44": "I apologize, often womanize / Took for my child to be born to see through a woman's eyes / Took for these natural twins to believe in miracles / Took me too long for this song."
"4:44": "You mature faster than me / I wasn't ready, so I apologize
I've seen the innocence leave your eyes / I still mourn this death, I apologize for all the stillborns / 'Cause I wasn't present, your body wouldn't accept it."
"4:44": "I suck at love, I think I need a do-over / I will be emotionally available if I invited you over / I stew over what if you over my shit?"
And then there are the lines that have (almost) nothing to do with marital drama, but are either just plain funny or memorable for their candor.
"Family Feud": "Ain't no such thing as an ugly billionaire, I'm cute"; "Al Sharpton in the mirror takin' selfies / How is him or Pill Cosby s'posed to help me?"
"Moonlight": "We stuck in La La Land / even when we win, we gon' lose."
"Smile": "Niggas'll rip your shit off Tidal just to spite you / Ahhhh what did I do?"
More "Smile": "Mama had four kids, but she's a lesbian / Had to pretend so long that she's a thespian / Had to hide in the closet, so she medicate / Society shame and the pain was too much to take"; "My therapist said I relapsed / I said, 'Perhaps I Freudian slipped in European whips.'"
"Legacy": "Your seed, married his seed, married my seed / That's how we keep Carter money all in the family."
Elsewhere on the album, Jay-Z takes hip-hop to task. Most notably, he puts a target on the back of his (former?) Throne partner Kanye West with shots that seem to respond to Kanye's own onstage complaints about their friendship.
"Kill Jay-Z": "I know people backstab you, I felt that too / But this fuck everybody attitude ain't natural / But you ain't the same, this ain't Kumba Ye / But you got hurt because you did cool by Ye / You give him $20 million without blinking / he gave you 20 minutes onstage, fuck what was he thinking? / 'Fuck wrong with everybody?' is what you saying / But if everyone is crazy, you're the one that's insane."
Kanye's "30 Hours": "I hit the gym, all chest no legs."
"Bam": "Uh, niggas is skippin' leg day just to run they mouth."
"Niggas in Paris": All of it.
"Caught Their Eyes": "Don't big bro me, don't big homie / I've seen pure admiration become rivals / I've been to Paris at least two times / I've seen the Eiffel, I've seen an eye full."
Future is also the recipient of a Jay-Z low blow that makes a laughing stock of Future's disdain, with Russell Wilson being a stepfather to Baby Future.
"Kill Jay-Z": "In the future, other niggas playin' football with your son / You had lost it, 13 bottle of Ace of Spade what it did to Boston."
After Prince's death, Tidal argued it had an agreement with Prince to be the sole source to stream Prince's catalogue, which Prince's estate has since fought against in court. On behalf of Tidal, Jay-Z raises a big fat middle finger to the proprietors of Prince's estate, namely Prince's former lawyer L. Londell McMillan, on this album.
"Caught Their Eyes": "I sat down with Prince, eye to eye / He told me his wishes before he died / Now, Londell McMillan, he must be color blind / They only see green from them purple eyes / They eyes hide, they eyes high / My eyes wide shut to all the lies / These industry niggas, they always been fishy / But ain't no Biggie, no lazy eye, huh / This guy a slave on his face / You think he wanted a master with his Masters? / You greedy bastards sold tickets to walk through his house / I'm surprised you ain't auction off the casket"
According to No I.D., several samples used on 4:44 were chosen directly by Jay-Z, who created a playlist of influences for I.D. to draw from in his beat construction. Tracks credited as co-produced by Jay-Z – "The Story of O.J.," "Smile," "Caught Their Eyes," "Moonlight," "Legacy" – have samples he picked.
"Kill Jay-Z": The Alan Parsons Project, "Don't Let It Snow"
"The Story of O.J.": Nina Simone, "Four Women" (pitched up on the intro; Kool G. Rap & DJ Polo, "Kool Is Back"; Kool & the Gang, "Kool Is Back Again"
"Smile": Stevie Wonder, "Love's in Need of Love Today"
"Caught Their Eyes": Nina Simone, "Baltimore" (Randy Newman cover)
"4:44": Hannah Williams and the Affirmations, "Late Nights & Heartbreak"
"Bam": Sister Nancy, "Bam Bam" (in what could be interpreted as further Kanye shade, Kanye also heavily sampled "Bam Bam" in last year's "Famous")
"Moonlight": The Fugees, "Fu-Gee-La" (the song also lyrically references Lauryn Hill)
"Legacy": Donny Hathaway, "Someday We'll All Be Free"
It remains to be seen when and if we'll get the NC-17 film with Lupita and Mahershala, or any of the other footage that's been teased (not to mention the unreleased songs heard in each), but there is one visual element to 4:44 so far. Shortly after releasing the album, Jay also shared an animated video for "The Story of O.J." directed by Jay and Mark Romanek (who also directed Beyoncés "Sandcastles," the only video from Lemonade in which Jay appeared). The black-and-white video stars Jay-Z as "Jaybo" in a play on minstrelsy that features an animated Nina Simone and other characters with cartoonish enlarged lips, eating watermelon, playing football (for the title's namesake), and other black stereotypes that depict certain horrors of black history that always threaten: no matter what you do, who you are, or where you go, if you're black, you're "still a nigga."
This post has been updated throughout.