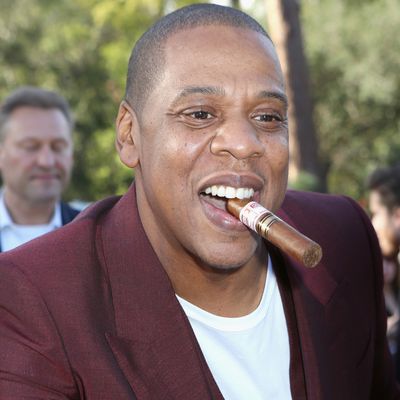 Photo: Ari Perilstein/Getty Images for Roc Nation
For the past quarter-century, gauging the passion of rappers for Mafia imagery has been something like gazing into the sun — it's too much. Yet even in the circle of fanatic mob aficionados, Jay-Z has managed to stand out. He may not have been the first rapper to style himself a don during the '90s, but his performance has certainly continued for the longest period of time: If the dapper crime lord pictured on the Reasonable Doubt cover in 1996 would go on to cross over into legitimacy, that too could be seen as part of the act. The Godfather, after all, is as much about merging into mainstream culture as it is about violent deeds: Vito Corleone fosters hopes that his son Michael can integrate into the WASP power structure, become a senator, a governor, and even after those dreams are dashed by Michael's increasing involvement in family business, the aspiration to escape into corporate respectability persists. Most of Michael's tenure as godfather is spent attempting to steer the family and its vast fortune out of the underworld in which they were formed.
Twenty-one years after Reasonable Doubt, the saga continues. "Family Feud," one of ten tracks on Jay's 4:44 album, spells out the connection between Corleone and Shawn Carter: "My consciousness was Michael's common sense," Jay explains. The song envisions not only his immediate family as a circle of blood ties, but the world of black music and culture at large, with Jay calmly presiding over both: Disrespectful upstarts are chastised, disputes between old hip-hop heads and new are mediated, and above all, solidarity is stressed. When he announces that "Nobody wins when the family feuds," the statement applies equally to his marriage with Beyoncé and to black America.
The artist, though, has picked up a few lessons in the process of growing old. What keeps Jay's Corleone comparison from being the usual boilerplate is that he emphasizes, in the ensuing lines, the blindness of taking it too much to heart: "I missed the karma and what came as a consequence." Michael triumphs in his mob wars and raises his clan to white-collar prominence, but loses his actual family in the process: His Nordic wife, Kay, appalled by the savagery, aborts one child and leaves him, taking their other children with her. Of course, Jay's been mobbed up too long to give up playing Don Corleone, but at least the Don he's emulating now is Brando's Vito — stably married to a woman from the same culture and a father who's there for his children — and not Pacino's Michael.