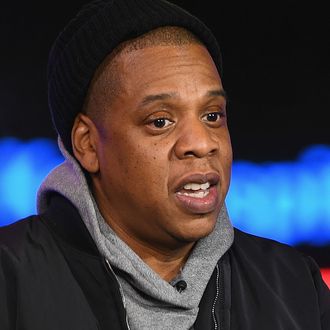 Jay Z.
Photo: Dave Kotinsky/Getty Images
Jay Z was inducted into the Songwriters Hall of Fame on Thursday, and subsequently got in his feelings. What's a husband-of-Beyoncé to do? Take to Twitter to personally thank all the rappers who've inspired him, including (and especially) his wife, a skilled MC in her own right. Hov — who promises he wasn't drunk, just inspired— name-dropped everyone from Kanye, Chance the Rapper, Drake, Andre 3000, Nas, Big L, Queen Latifah, Lauryn Hill, Nicki Minaj, Lil Wayne, and more. In peak Dad Twitter, Jay admitted he was confused by the app, but determined to spread the love. His conclusion: "black people really magic . Mac Miller nice too though ." Read the thread below and take some screenshots before Blue Ivy snatches back the iPad and promptly deletes these tweets.
(Keep in mind that Jay is a full-time Instagram Husband — Twitter isn't his game.)
Oh excuse me? Did you think with that broken Dropbox link Jay Z was done? No, no. There are a couple more names to come.