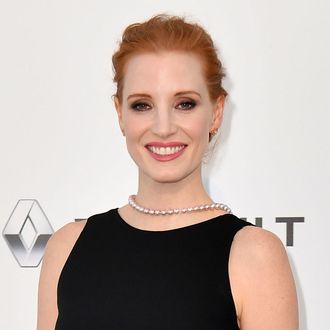 Jessica Chastain, potential empress of the Shi'ar.
Photo: ALBERTO PIZZOLI/AFP/Getty Images
Somehow, somebody got Jennifer Lawrence to sign on for another X-Men movie. Per Deadline, Fox has recruited Simon Kinberg, a producer on the X-Men films and first-time director, to direct X-Men: Dark Phoenix, which would adapt the famous 1980s Dark Phoenix comics story line in which Jean Grey turns bad after her powers get massively amplified. Sophie Turner, who appeared in Apocalypse, will play Jean Grey. Jennifer Lawrence, Michael Fassbender, James McAvoy, Nicholas Hoult, Alexandra Shipp, Sophie Turner, Tye Sheridan, and Kodi Smit-McPhee will all reprise their roles. Jessica Chastain, meanwhile, is in talks to play the villain Lilandra, the empress of an alien empire. Let's hope she gets a suitably ludicrous makeover.