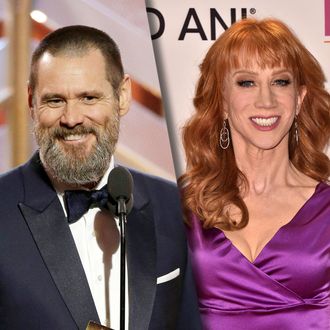 Jim Carrey and Kathy Griffin.
Kathy Griffin recently came under fire for a photo of her holding a bloodied, severed head that resembles Donald Trump (CNN also dismissed her from her long-standing New Year's gig with the network), and now she's found defenders in an unlikely pair of personalities: Jim Carrey and Larry King. When asked about the backlash to Griffin's image, snapped by celeb photographer Tyler Shields, Carrey said she was doing her job. "I think it is the job of a comedian to cross the line at all times — because that line is not real," he told Entertainment Tonight. "If you step out into that spotlight and you're doing the crazy things that [Trump] is doing, we're the last line of defense. And really, the comedians are the last voice of truth in this whole thing." Larry King also tweeted support of Griffin and her apology:
Senator Al Franken, who was set to have Griffin appear at an event promoting his new book, has found his support of the comedian wavering, however. On Thursday evening, the Minnesota Democrat called Griffin's photo "inappropriate," and said it would be best for "her not to participate in the event," according to Politico.
Griffin is expected to address the controversial image at a Friday-morning press conference.