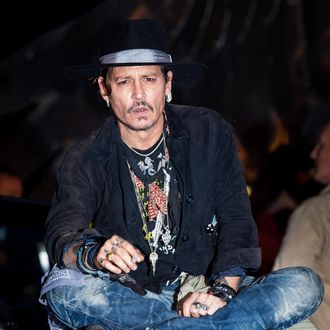 Photo: Ian Gavan/Getty Images
The star of the Pirates of the Caribbean franchise is finding himself in more hot water than, well, an actual pirate in the Caribbean. While introducing his 2004 film The Libertine at the Glastonbury Festival in England, Johnny Depp asked the crowd, "Can we bring Trump here?" The crowd responded with a resounding "no." Depp went on to say that he thinks the president "needs help." But the 54-year-old actor did not slow his anti-Trump roll and added an extremely cringeworthy sound bite:
"This is going to be in the press, and it will be horrible. But I like that you're all a part of it. When was the last time an actor assassinated a president?"
Of course, Depp is referring to the 1865 assassination of Abraham Lincoln by John Wilkes Booth, also an actor. After his "joke" about murdering the leader of the free world, Depp immediately tried to do damage control, saying:
"I want to clarify. I'm not an actor. I lie for a living."
While the crowd laughed at this, the Secret Service probably didn't find Depp's assassination joke very laughable. Hey Johnny, did you pay attention at all to what happened to Kathy Griffin?