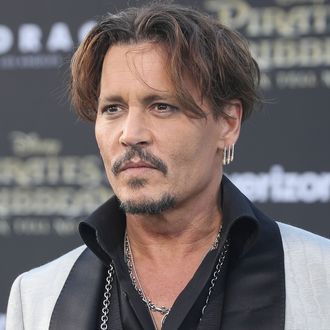 Photo: Rich Polk/Getty Images for Disney
Johnny Depp is having money problems, and he and his ex–money managers are squabbling in public trying to figure out exactly what he knew about his dire financial situation, and when. Was it before or after he paid $3 million — excuse me, $5 million — to have Hunter S. Thompson's ashes shot of out of a specially made cannon? He's suing his former financial advisers at TMG, they're countersuing him, and we're just trying to keep track of the 14 properties and the 15,000 cotton balls that may or may not be in his possession. The Hollywood Reporter has obtained newly released correspondence between Depp and TMG, wherein the actor tries to reason that he'll do his best to cut costs, as long as he can provide kids a good Christmas. "i am doing my very best on holiday spending, but there is only so much i can do," Depp writes in all lowercase. "as i need to give my kiddies and famille as good a Christmas as possible, obviously within reason." Which makes us wonder: What exactly does a Christmas bounty "within reason" look like when dad spends millions on guitars, artwork, and memorabilia?
TMG alleges that the messages prove that Depp was aware of the financial strain of his spending habits. In the email from December 2009, Joel Mandel, who is named in Depp's suit, writes: "I need to be able to sit with you on your return from this trip, and before you leave for France, so that we can talk about where we are financially, what we borrowed in order to sustain ourselves." Depp thanks Mandel for his work, circles back to holiday spending, and then offers to sell everything — including his soul — to right his debts. "what else can I do???" i got bikes, cars, property, books, paintings and some semblance of a soul left. where would you like me to start???" Unsolicited financial advice: Could we maybe bring the $30,000 per month wine habit down to, like, a couple bottles of Yellowtail?
See the full exchange, below: