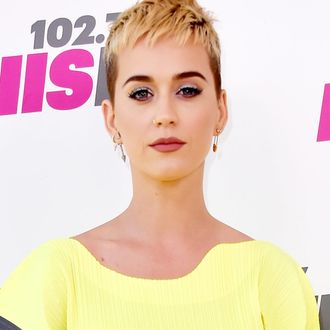 Katy Perry.
Photo: Frazer Harrison/Getty Images
As Katy Perry rides her sturdy one-trick pony through the promo circuit, her latest stop with NME has her giving even more perspective on that feud she has with Taylor Swift. Did you know there's a feud? Katy doesn't really want to talk about it, because women should be for women first, but she totally will if you make her. Today's edition of "Is 'Bad Blood' still a thing we're talking about?" has Perry touching on the consequences of character assassination. "I mean, I'm not Buddha — things irritate me," she told NME. "I wish that I could turn the other cheek every single time, but I'm also not a pushover, you know? Especially when someone tries to assassinate my character with little girls [her fans]. That's so messed up!" Sensing that the whole conversation has turned a little stale, Perry is really hitting the nuclear option by going directly for the Swifties. She also made it clear that she harbors no ill will toward her megaproducer collaborator Max Martin for his work on Swift's song. This is good, because Martin was definitely losing sleep over this whole thing.
The NME interview, of course, comes after Perry told Entertainment Weekly at the start of May that, "Honestly, when women come together and they decide to unite, this world is going to be a better place. Period end of story." The story continued, however, when she told James Corden it was Swift's job to end the fight, because she started it. Then there's her song "Swish Swish," which the speculation engine considers Perry's long-awaited response track to "Bad Blood." She subsequently discussed the new song on The Tonight Show.
To put this in perspective, the song "Bad Blood" entered the discourse after Swift talked about the meaning behind the song in a cover story with Rolling Stone that came out on September 8, 2014. That was 1,003 days ago, ages in pop-culture time. That interview is generally regarded as the official start of the Perry-Swift feud, which allegedly began with a dispute over backup dancers for the singers' respective tours. Instead of firing back immediately or just letting the whole thing go, Perry decided to wait 1,000 days before carpet-bombing the press with "Is this shade?" quotes about her Top 40 rival.
If Swift really is the duplicitous Mean Girl who tears down other women when she should be lifting them up, that sure hasn't stopped Perry's PR team from using her as part of the Witness marketing plan. Is someone sending an edible arrangement to Swift's sequestered compound every time Perry sits for the press? In a perfect world, Swift, Perry, and even Kim Kardashian are all in this together, and we're all getting played by an intricate, years-long scam.