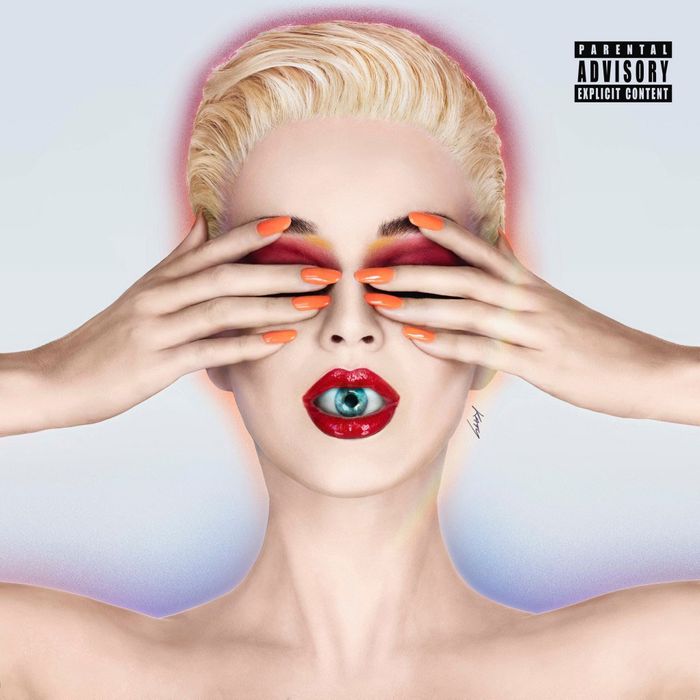 Photo: Capitol Records/katyperry.com
I've got good news and bad news: Katy Perry's new album Witness isn't the pop Hindenburg crash we've been bracing ourselves for all spring. But it isn't the "purposeful pop" opus she promised in prerelease interviews either. This is a best-case scenario, really, considering the album's rollout, which could charitably be described as troubled. Perry's woke initiative floundered in a string of public gaffes that raised questions over the singer's political acumen. Early singles jostled between bantamweight philosophical musings ("Chained to the Rhythm") and big rap collaborations that further crossed up the purposeful pop ethos ("Swish Swish," "Bon Appetit") and made Katy look thirsty for an unfussed cool she's too theatrical to sell. KP5 seemed rudderless at a juncture where Katy ought to know how to get a campaign off the ground.
Was all that thrashing actually just a search for new personnel? Dr. Luke — producer and cowriter of "I Kissed a Girl," "Teenage Dream," "California Gurls," "E.T.," "Roar"… essentially all of Perry's hits — lost major music-industry trust and cachet in 2014 as he fought accusations of verbal and sexual abuse from Kesha with a countersuit suggesting she'd cooked it all up to get out of her contract. Perry's silence on the matter was jarring — even Taylor Swift spoke out. Luke's a no-show on Witness, and whether that's thanks to Katy showing solidarity, slickly distancing herself from a radioactive situation, or getting caught up in some fortuitous label red tape, it helps to know that this album was conceived without the closer that helped sail the last four out of the park.
The other story of Witness (and a lot of modern pop music) is that you can get just about anyone to make a quirky dance-pop bop in 2017. Katy's search for new collaborators yielded a good group: Contributors include British producer-songwriters Jack Garratt and Duke Dumont, indie dance sensations Hot Chip and Purity Ring, rap and pop maestros Mike WiLL Made-It, Jeff Bhasker, and DJ Mustard, and pop-radio veterans Max Martin and Shellback. The team lacks the mathematical precision of Perry's go-to production crew — Martin, Shellback, Luke, Stargate, and Benny Blanco, give or take a stray — but also the nagging urgency. The grooves feel light and free, where your textbook Katy Perry cut can often come off like a freight train barreling toward a massive drop.
Patient grooves mean these songs sink or swim on how powerfully Katy sells the vocals and lyrics. When she cuts loose, she soars. "Power" is a righteous feminist empowerment anthem with an impassioned, soulful lead. The Mike WiLL synth-pop vehicle "Tsunami" pulses with lust and warmth that make the oral-sex-as-snack-buffet metaphor of "Bon Appetit" all the more ham-fisted when it shows up right after. "Pendulum" flashes Perry's church roots as Jeff Bhasker piles a gospel choir on top of an uplifting piano and drum track, and Katy catches the spirit. At 15 songs, though, Witness is a little light on new ideas. "Hey Hey Hey" is cool and confident but too beholden to Lorde's cooing vocal affectation. Jack Garratt channels James Blake too closely on "Power" (as tracks on his own album Phase did last year).
A more pervasive problem is awkward writing. "Roulette," "Mind Maze," "Bigger Than Me," and "Deja Vu" serve up pat lyrical conceits, mixed metaphors and obtuse phrasing: "Your words are like Chinese water torture / And there's no finish line, always one more corner / Yeah, they slither like a centipede, why do you keep me / At the end of a rope that keeps getting shorter?" "I'm losing all direction, slipping into quicksand / I've shattered the illusion seen behind the curtain." "A tiger don't lose no sleep / Don't need no opinions from a shellfish or a sheep." The wonky verses on Witness suffer the same malaise as latter day Eminem records: They're too obsessed with settling into a rhyme scheme to notice that the words they're using to get there sound silly.
These bouts of shortsighted writing illuminate how thoroughly tricky it is to write an uplifting pop song that doesn't trip over its own words or sink into greeting-card schmaltz. This isn't an issue that's new to Katy — do you ever feel like a plastic bag? — but it's a problem for an album that was billed as her big Statement Record. Is this all Katy Perry can muster?