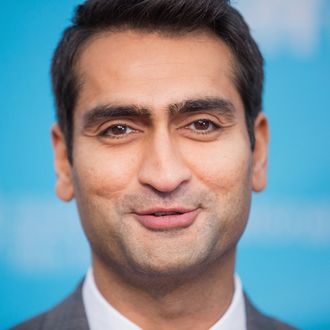 Nanjiani.
Photo: Mat Hayward/Getty Images
Kumail Nanjiani started doing stand-up comedy because of a scene in Four Weddings and a Funeral. He's returned to the Hugh Grant rom-com about falling in love with Andie MacDowell (and running into her at the most inopportune times) over and over again, according to a Twitter thread he posted Wednesday afternoon. The Richard Curtis–penned movie was an inspiration for the movie he made about his own love story — The Big Sick, due out June 23 — and he and wife and co-writer, Emily V. Gordon, watched Four Weddings and a Funeral the day of their own wedding.
Between a WGA event and a concert, Nanjiani has occasionally run into Curtis and told him about his love for the film. The day of The Big Sick's opening, he got a package in the mail from the screenwriter: four frames from Curtis's personal reel of the movie. "Of course I recognize the scene instantly," Nanjiani tweeted. "It's Hugh Grant having 2nd thoughts before the final wedding. I get to hold it in my hands. I have no words." Read Nanjiani's thread for yourself:
To be fair, Nanjiani started the thread with a spoiler that it'd be sappy, but we're still wiping away a tear.