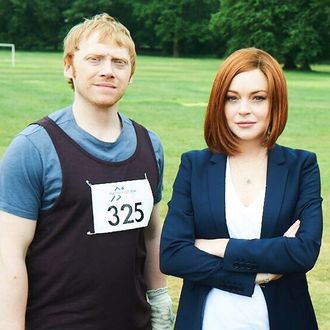 10 points to Gryffindor?
Photo: Sick Note/Sky Atlantic Press
British TV shows are the new refuge for washed up American stars. Just ask Taylor Lautner about Cuckoo, or Lindsay Lohan about her new project. In between acquiring a new accent, meeting with the president of Turkey, and signing on for a British prank show, Lohan has found the time to hang out with Ron Weasley in season two of Sick Note, a British comedy that stars Rupert Grint as a man misdiagnosed with a terminal illness, who then decides to keep the fact that he's actually fine from his family and friends. Lohan will play a character named Katerina West, the daughter of Grint's boss, played by Don Johnson. If this goes well enough, perhaps she could head back to the U.S. for a role in a Ryan Murphy show, and then build up to that dream Little Mermaid production in which she seems so invested.