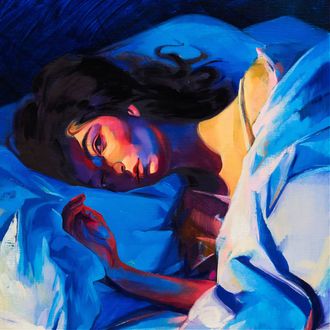 A successful first album is a secret curse. The pressure for a strong follow up can melt careers. The Strokes ran themselves ragged trying to reimagine the garage-rock formula they perfected the first time out with Is This It? Lauryn Hill found the task of following up her 1998 Miseducation album so daunting that she never even completed a proper sophomore LP. Lorde's multi-platinum international smash debut Pure Heroine complicated matters for the singer because she was a 17-year-old New Zealand teen at the time. In a nation of just 5 million people, the pop ingenue with the seven-time platinum single couldn't even slip out for a meal without drawing attention.
Lorde eventually found her own small town celebrity stifling to her creativity and split for grayer pastures. She touched down in New York City, where work commenced with Bleachers and fun. member and sometime Taylor Swift collaborator Jack Antonoff, an intriguing choice because he isn't exactly a surefire hitmaker. Antonoff did have a hand in "We Are Young," "Some Nights," and "Out of the Woods," but his portfolio contains more confectionary fluff than bonafide hits. For every "I Don't Wanna Live Forever," there's an "I Wish You Would" and a "You Are in Love."
The result, Melodrama, is a leap for both performer and producer. The tracks are brasher and more intricately arranged than Heroine. Help from Frank Ocean cohort Malay and sometime Drake and Travis Scott affiliate Frank Dukes shouldn't be understated: Dukes knows how to make a beat bang, and Malay's work on Ocean's Channel Orange and Blonde albums displayed poise with quiet, spacious arrangements. Melodrama occupies both spaces authoritatively. The ballads grip with naked honesty and gently plucked pianos. The dance tracks are boisterous and offbeat. (As they should be. Picture Max Martin dismissing the Kate Bush roller-disco front of "Green Light" as "mathematically incorrect" songwriting, then helping create Katy Perry's garish "Bon Appetit.")
Lorde has grown considerably as a singer and a writer in the four years since Heroine. These aren't the preternaturally sharp observations of a teen who seems old beyond her years. There's pain and truth and knowledge of self in every word. The track list is split between earnest, heartbroken displeasure and moments of clarity where the entire business of pining for exes is revealed as a fault of selective memory. "Supercut" remembers an old flame but wisely acknowledges that they burned out because they weren't good to each other, that her fond memories were "just a supercut of us."
Like Taylor's "Blank Space," Melodrama both exemplifies and satirizes the concept of the breakup record. There's a self-deprecating edge to the writing that a lot of big-ticket 2010s pop is missing. It takes keen self-awareness and grinning humor to call your breakup album Melodrama and sell a hook that snarks, "Bet you rue the day you kissed a writer in the dark / Now she's gonna play and sing and lock you in her heart." "Bet you wanna rip my heart out, bet you wanna skip my calls now," "Loveless" sneers later on. "Well guess what? I like that."
It's tempting to call this Lorde's New York Album, because it documents the moment in every bustling career where a person comes blowing into the big city looking to slip into the grids of skyscrapers and unrelentingly fast subway cars and disappear. Over time it becomes clear exactly how chilling the anonymity of a metropolis can be, how driven the fear of failure makes the people who inhabit such places, how someone somewhere always wants something, and how even kindnesses and friendships can become transactional. "Liability" captures the feeling: "The truth is I am a toy that people enjoy / 'Til all of the tricks don't work anymore / And then they are bored of me." Lorde responds to this sensation the way any rational being would: she gets very, very drunk and strikes up acquaintances with boys who are good enough for the moment but not the long haul. The silver lining is the sense that she understands that this is ridiculous behavior.
Melodrama is the nauseous morning after pang of regret where we tell ourselves "I'm never doing that again," if only to muster strength to limp along to the next opportunity to prove the pledge a lie. It takes most people years to catch themselves in these patterns. Many never do. Add wealth and scrutiny to the equation, and it's easy to see how someone might get tripped up in the machinery of their own stardom, how pop careers collapse into addictions, arrests, and foreclosures. Lorde appears to have it all wrapped up in "Sober," song two on album number two: "These are the games of the weekend / We pretend that we just don't care, but we care / But what will we do when we're sober?"
Lorde is a fascinating presence in pop music at a time when posturing is as important as craft, because she isn't selling media savvy or wokeness or humor. She is an outstanding writer and an intriguing singer. She doesn't do red carpets. She avoids big duets. She dances awkwardly in the stage show. It's a model for stardom that's not supposed to exist anymore. When you take three-to-four years to make a record, you're supposed to come back loudly. Frank built stairs. Bey made a movie. Katy did Big Brother. Melodrama is quick, curt, and frequently quiet but always packed with personality. It's the kind of record you put out when you don't want to kick up a fuss but you need to make it clear that you're not going anywhere.