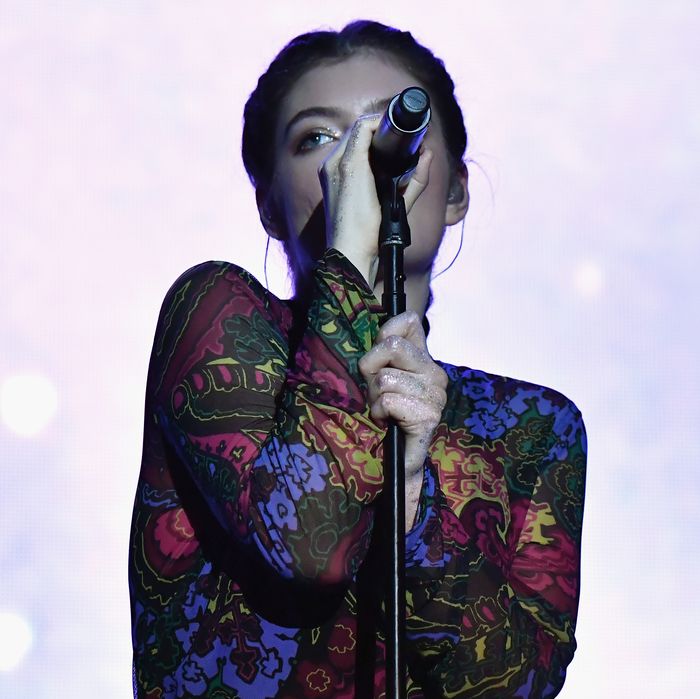 Melodrama is out on Friday.
Photo: Jeff Kravitz/FilmMagic for Bonnaroo Arts and Music Festival
On Friday, former teen prodigy Lorde will release her sophomore album, Melodrama. (It's out now for all you lucky Aussies and Kiwis.) Now a seasoned 2o-year-old — with plenty of swear words sprinkled throughout the album to prove it — the album will look to evade the sophomore slump and establish Lorde as a legitimate pop force. But with more than three years (mostly) away from the music scene making this album, there's a lot of blanks to fill in. What's this album even about? We're here to tell you that and more.

It's about a house party.
Lorde's latest is a loose concept album centered around a single house party, the events leading up to it, and all that might entail for your average 20-something (yes, even Lorde). "With a party, there's that moment where a great song comes on and you're ecstatic," she told The New York Times Magazine, "and then there's that moment later on where you're alone in the bathroom, looking in the mirror, you don't think you look good, and you start feeling horrible." Part of the mood switch also comes from the fact that Melodrama was written in the aftermath of Lorde's first real breakup, though she's adamant it's not a breakup album: "It's a record about being alone. The good parts and the bad parts." "Everything written about on the album, give or take a couple of lines, all took place in New Zealand, is about me and my friends," she's also said.

Jack Antonoff co-produced and co-wrote the whole thing.
On Lorde's first album, she only worked with one person, Joel Little, whom she tried to collaborate with again on Melodrama, but he wasn't the right fit this time. Instead, she worked exclusively with fun. and Bleachers' Jack Antonoff, who co-wrote and co-produced the whole album with Lorde from his Brooklyn apartment and various other New York City studios. "I was like, 'Let's just gather around a piano and see how you're feeling, and see what has happened to you since your last album that's really worth sharing,'" Antonoff told Rolling Stone of their writing process.
She turned down Max Martin's advice.
Though Lorde kept her circle tight, she did seek out pop-production wizard Max Martin's advice about the melodic structure of the album's lead single, "Green Light," because his opinion is widely regarded as the best in pop. Martin called the song "incorrect songwriting," which Lorde says "wasn't an insult, just a statement of fact." Lorde also thinks the the final result is "a strange piece of music," which is why she trusted her gut and stuck with the original vision she and Antonoff had for the song.

Robyn was a major influence.
During her Governors Ball performance, Lorde talked about how Robyn was a "huge influence" on the making of Melodrama, before she launched into a cover of "Hang With Me" with Antonoff. Robyn was also present during the recording of the album, though not physically: According to The New York Times Magazine, Lorde kept a "framed picture of the Swedish pop savant" with her in the studio, and then brought it to Saturday Night Live to put on Antonoff's piano during their performance of "Liability." Lorde said she also listened to Graceland, Don Henley, and Phil Collins while making the album.

She wrote and recorded the album while transitioning from her teens to her 20s.
In a candid open letter that officially announced the album was near completion, published on the eve of her 20th birthday, Lorde said she wrote the bulk of the album as she was exiting her teens and trying to navigate what it means to now be in your 20s. "Writing Pure Heroine was my way of enshrining our teenage glory, putting it up in lights forever so that part of me never dies, and this record — well, this one is about what comes next," she wrote.

A lot of the songs germinated on train and cab rides.
Because Lorde moved to New York City to wrap up the album, she did what all New Yorkers do and tuned everyone out on various trains and cab rides by listening to music. Except Lorde was listening to her own album. Or at least the early demos of it, to figure out what worked and what didn't. "In a lot of ways I felt like a little monk, drifting down into the subway, being very solitary and just thinking about the music all the time and not really socializing very much," she told Rolling Stone. She came up with the idea for "Liability," in particular, after a cab ride listening to Rihanna's "Higher."

And when she wasn't on trains, she semi-lived at New York's Flame Diner.
In other New York things, Lorde also spent time lurking in a diner in Columbus Circle giving her album a test run. "I spent about four months here last year with my laptop out and my headphones on, listening to demos, looking at lists of what I needed to get done and writing songs. People must have thought I was an aspiring poet or something," she said.