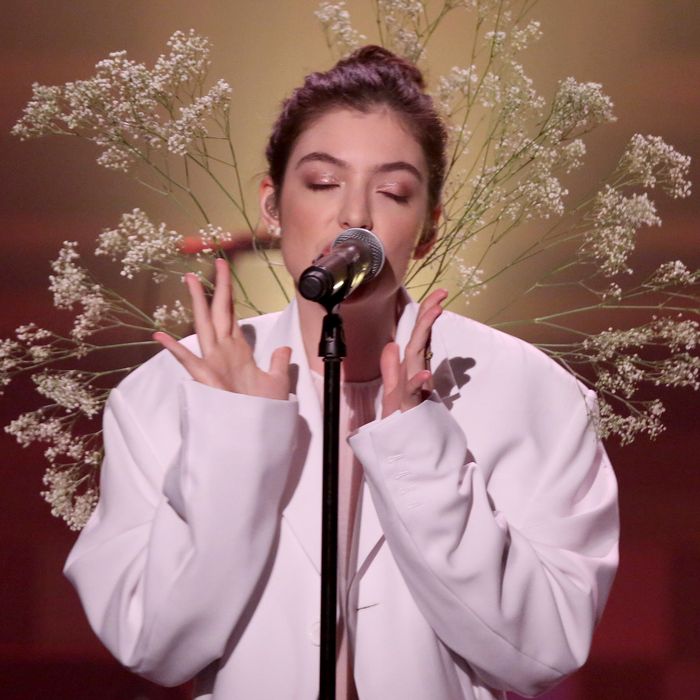 Lorde.
Photo: NBC/NBCU Photo Bank via Getty Images
For someone who only recently turned 20, Lorde has developed a pretty good read on the emotional complexities that mark that tumultuous decade of life. But then Lorde's been preparing for early adulthood her entire life. On her 2013 debut, Pure Heroine — written when she was in her early teens — Lorde talked openly on "Ribs" about the frightening anticipation of leaving childhood behind for the uncharted territory of maturity. That albums most honest moment was when she sang, "It feels so scary getting old." Now that she's reached the age she's been waiting for, she's finding it to be disappointing and, worse, predictable. On her sophomore album Melodrama, out today, the unshakable loneliness Lorde feared might come is fully realized. But Lorde's not examining the mood as an isolated event specific to her own life. Instead, she's looking at it as a symptom of a generational epidemic. She even has a name for her peer group: "Generation L.O.V.E.L.E.S.S."

In small pockets throughout Melodrama, Lorde spends time wondering why she's at a party — the epicenter of the album's concept — but never feels quite in the partying spirit. And then it hits her like that drink she downed when she first arrived: No one's feeling it, or anything else, either. "I think I'm partying so much because I'm just dreading sitting at home by myself hearing my thoughts hit the walls," she told Genius. "Parties are a really interesting mental exercise/take on a few different layers when you're feeling like this." Lorde is fascinated enough by the detachment to dedicate a two-part anthem to the cultural malaise she's noticed taking hold of everyone she knows.
"Hard Feelings/Loveless" starts off thoughtfully. It works through the emotions of falling out of love, but it leads to a colder conclusion in "Loveless." Now that Lorde's experienced how suddenly two people can stop caring for each other, she's written herself the bitter prescription of going numb. "Loveless" defaults to sarcasm: "Bet you wanna rip my heart out / bet you wanna skip my calls now / well guess what? I like that," she taunts — but she knows she's bluffing. The rest of the abbreviated add-on to "Hard Feelings" ("Loveless" only lasts a couple minutes) mocks the lengths that people her age are willing to go to feign being unaffected. "We're L.O.V.E.L.E.S.S. Generation / all fuckin' with our lovers' heads," she sings, exposing the truth in a sharp couplet that rips into millennial-made traps to avoid commitment or, god forbid, capital-L love (like the dreaded situationship). These defense mechanisms are nothing new and certainly aren't exclusive to one age group, but Lorde's perceptive and self-aware enough to understand that her peers might be taking romantic indifference to the extreme.

"Loveless" doesn't judge this generational attitude any more than Alessia Cara's introvert's dream "Here" (also the product of feeling out of place at a house party) or SZA's "20 Something" did before it. Mostly, Lorde's just hurting because she has to take part in it. At least she's feeling something.