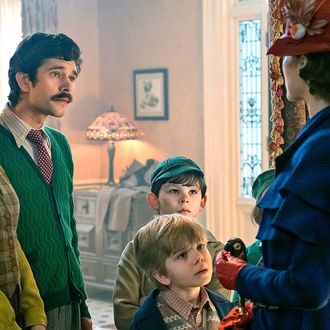 Michael, plus mustache, minus wife.
Photo: Jay Maidment/Disney/Entertianment Weekly
Two things tend to define classic Disney movies: a childlike sense of fun that can easily be parlayed into theme-park attractions, and death, specifically of parents, and especially of mothers. The studio's latest live-action update, Mary Poppins Returns, will be no different. The sequel to the 1964 original follows Michael and Jane Banks, who have grown up; Michael even has children of his own. Those kids — you guessed it — have a dead mom. "Michael, a banker by day but artist at heart, has run his home with warmth and love," EW writes, "but when his young wife dies suddenly, the home becomes nothing more than a cold house." Anyway, Michael is played by Ben Whishaw and he has a great mustache. Emily Mortimer plays his sister Jane, who's now a union organizer. It's not clear at the moment who plays Michael's wife, or what her name is. It is clear that she will be dead.