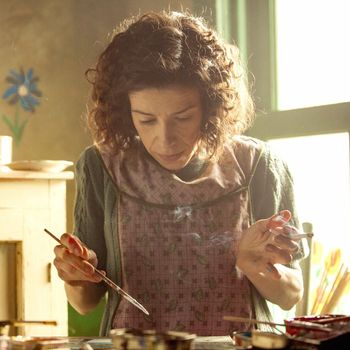 Sally Hawkins in
Maudie
.
Photo: Duncan de Young
In the tear-jerking biopic Maudie, Sally Hawkins is vivid and endearing as the Nova Scotia folk artist Maud Lewis, whose bright, colorful paintings (cats, flowers) have been described, even by her champions, as childlike. (They are not to all tastes.) Tiny, her body twisted by a childhood disease and her digits by arthritis, Lewis painted on the first floor of the nine-foot-by-ten-foot-six-inch house she shared with her husband, Everett, on a road outside the village of Digby, selling her works for five or six dollars a pop from the 1950s to the early '70s. Footage of her later years shows a self-effacing old woman whose hands are so gnarled that she can barely hold a brush, while her bony husband — a fish-peddler — wanders the property trying to look useful. Their relationship has provoked much speculation, little of it good, but Lewis certainly succeeded in using her art (she worked day and night) to transcend what might have been a wholly miserable existence.
The Canadian writer Sherry White and Irish director Aisling Walsh have turned Lewis's life into a story of female empowerment and eternal love. Their strategy is to make the first half of Maudie so bleak that the faintest crack of sunshine becomes the most tender of mercies, and then to go for full-on pathos. In the first scenes, the somewhat backward, 30-something Maud lives with her aunt, Ida (Gabrielle Rose), who treats her so coldly that Maud forsakes the safety of her family for a job as the 40-year-old Everett's live-in housekeeper. It's hardly an improvement. Everett treats her so insultingly that the audience cringes: Only a woman with no options and little self-respect could last more than an hour in that teeny, filthy house.
There's a Gothic quality to Maudie, suggesting stories in which a headstrong young governess slowly turns a brusque master into a sensitive lover. That's the template, anyway — the atmosphere is too desolate and the heroine too simple to make this a modern Jane Eyre. And Ethan Hawke turns Everett into such a thoroughly repulsive figure that it takes a long time for you even to want them to end up together. Hawke is a brave actor, and he goes for it here, twisting up his features and roughing up his voice, his accent drifting between Irish and Maine Yankee. The labor shows a little too much. And Hawke might be too conscientious a feminist to give the abusive man even a trace of charm.
Still, the trajectory is from frigid to warm, forsaken to triumphant. The turnaround begins when a sophisticated New Yorker (Kari Matchett, who's like Cate Blanchett doing Katharine Hepburn) spies Maud's work and commissions some paintings while Everett stands by, suspicious. Then Maud and Everett get married. Then the paintings catch on, until even Richard Nixon is sending off for one. Everett gets even meaner — he's plainly jealous of Maud's notoriety — and Maud moves out, but she has made a place in his heart. In his dim way, he understands that she has given meaning to his life.
The final scenes of Maudie are moving — but for reasons I couldn't put my finger on at first, I didn't fully buy them. A dip into Lance Woolaver's wandering (to put it kindly) biography Maud Lewis: The Heart on the Door revealed how far from Lewis's story Maudie is. Where Walsh and White suggest that Maud's ongoing art sales (there was a sign for paintings by the road) threatens Everett's masculine pride, the real Everett was said to have planted his crippled wife by the side of the road as an object of pity. He also remained a would-be womanizer (constant attempts, no success) all through the couple's marriage. A thunderous plot twist toward the end of the movie is likely the exact opposite of what happened, the truth far more psychologically complicated. What matters is not that Maudie strays from the facts of Maud Lewis's life — almost all biopics do. It's that it strays into conventional melodramatic and tearjerker territory.
Sally Hawkins doesn't rise above the film's conception, but she makes it work. She is simple but never simpleminded. Her shoulders slope, her feet turn inward, her fingers twist, but her facial features are big and clear and lucent, at times suggesting the radiant plainness of Lewis's art. I was never convinced — sorry — that there's much to those paintings, but the woman painting away in that glorified shack near the coastal sands of Nova Scotia is a beautiful image in its own right.