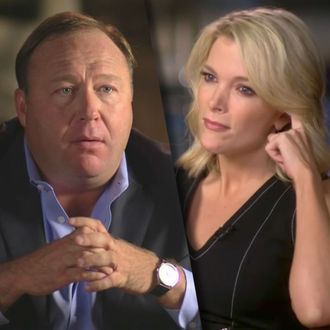 Alex Jones and Megyn Kelly.
Photo: Sunday Night with Megyn Kelly/NBC/Youtube
America responded to Megyn Kelly's controversial Alex Jones interview Sunday with a collective yawn, at least according to preliminary Nielsen data. Despite a full week of free (albeit mostly negative) publicity — which particularly caused an uproar among parents of children killed in the Sandy Hook shooting, as Jones believes the tragedy to be a hoax — the ratings-measurement company says only 3.5 million viewers bothered to watch Kelly's NBC newsmagazine Sunday Night, which last night kicked off with a profile of the Infowars conspiracy theorist. That's down a tick from the 3.6 million who tuned in last week, and far below the 6.2 million who caught the show's June 4 premiere. Exact comparisons aren't possible until tomorrow, when Nielsen releases final national ratings. But NBC News brass can't be happy that a much-touted "exclusive" from its brand-new megamillion-dollar anchor hire not only didn't move the ratings needle, but also ended up finishing well behind reruns of both CBS's 60 Minutes (5.3 million) and ABC's America's Funniest Home Videos. Ouch.