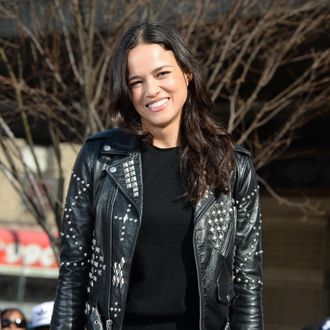 Michelle Rodriguez.
Photo: Kevin Mazur/Getty Images for Universal Pictures
After appearing in five of the Fast and the Furious movies, the franchise's reigning female lead, Michelle Rodriguez, is looking for another women to go toe-to-toe with (or race against, or anything really). The Fate of the Furious star took to Instagram today to chastise the series for it's male-heavy cast, which features Dwayne Johnson, Tyrese Gibson, Jason Statham, Chris Ludacris Bridges, Kurt Russell, and, of course, Vin Diesel. "F8 is out digitally today, I hope they decide to show some love to the women of the franchise on the next one," Rodriguez wrote, before leveraging her threat. "Or I just might have to say goodbye to a loved franchise."
While Rodriguez has played a big part in several of the major story lines over the franchise's history, and has gotten involved in her share of fights and ridiculous car antics, her character, Letty, often plays second fiddle to the male action stars, and few women even come close to matching her amount of screentime. Still Fate saw the addition of two heavy-hitting actresses — Charlize Theron and Helen Mirren — so maybe there's hope yet that the ninth installment will offer more opportunities for women to throw their weight around.