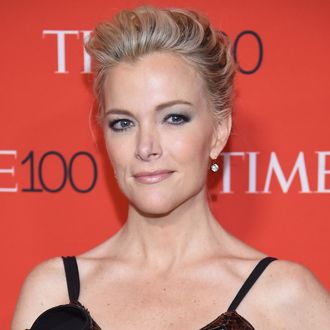 Photo: Dimitrios Kambouris/Getty Images for TIME
The lead-up to Megyn Kelly's interview with Alex Jones is generating more bad publicity for NBC. Shortly after Jones posted a recording of his pre-interview with Kelly — in which she can be heard telling the InfoWars host that she won't make him into "some kind of boogeyman" and that she sees him as someone who is "more complex than we have been led to believe" — an NBC affiliate in Connecticut has announced they will not air the interview with Jones in their area. Deadline reports that WVIT president and general manager Susan Tully sent a memo to the staff explaining the decision.
Whenever there is news regarding the Sandy Hook tragedy, we know that the pain resurfaces for our community, our viewers and for you, our colleagues at WVIT. Over the last few days, we have listened intently to Sandy Hook parents, our viewers and importantly, to you. We have considered the deep emotions from the wounds of that day that have yet to heal.

Because those wounds are understandably still so raw, we have decided not to air this week's episode of Sunday Night With Megyn Kelly. We will continue our local coverage, including a special report on our Sunday 11pm newscast, which includes Sandy Hook parents, Governor Malloy and others who work to affect change around violence and mental illness. For those in our viewing area who still wish to see the show, it will be available Monday on NBCNews.com.

Thank you for voicing your concerns and feelings.
According to Page Six, the interview is being heavily reedited before going to air, and there might also be interviews included with parents of children who were killed in the Sandy Hook massacre. In addition to the pre-interview, Jones is threatening to release the raw audio of their entire conversation, saying he has "30-plus minutes of her lying" and calls her "the mouth of Satan." Advertisers have pulled out of Kelly's Sunday night program. The state where the Sandy Hook shooting took place isn't even airing it, and not even Jones wants it to be broadcast. Sunday Night With Megyn Kelly is off to a great start!