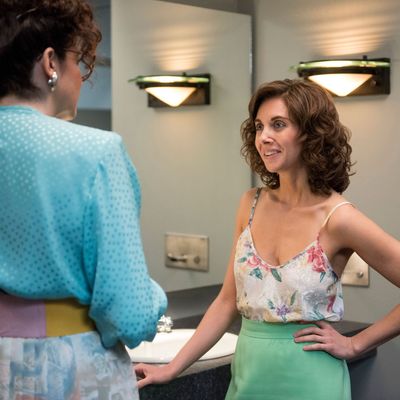 Alison Brie as Ruth Wilder.
Photo: Erica Parise/Netflix/Erica Parise/Netflix
For those, like myself, who watched Gorgeous Ladies of Wrestling during its original syndicated run, there will be faces introduced in the premiere that feel faintly familiar. Mall-punkish pair Stacey (Kimmy Gatewood) and Dawn (Rebekkah Johnson) could easily evolve into the original promotion's lunatic "heavy-metal sisters" Chainsaw and Spike. Imposing but shy Carmen (Britney Young) and diminutive and chipper Jenny (Ellen Wong) could likewise morph into a Mountain Fiji/Little Fiji–esque combination. And pretty, petite, deceptively potent Ruth Wilder (Alison Brie) may well have been modeled on GLOW OG Tina Ferrari, who, as some may know, went on to several high-profile years with WWE under the name Ivory.
More traditional wrestling diehards will find plenty to latch onto themselves. Scenes of Ruth and her soon-to-be colleagues auditioning in the ring for B-movie director and recreational cocaine user Sam Sylvia (Marc Maron) get into the nitty-gritty of rope-to-rope basics. Their trainer is played by actual wrestler Johnny Mundo, better known for a successful WWE tenure as John Morrison. And a montage of Ruth role-playing moves on her bedroom furniture, coupled with narrative tension between her and BFF Debbie (Betty Gilpin) that spills over into physicality and inspires Sam's aha moment and subsequent spandex daydream, summon all the best and purest feelings that sports entertainment can generate.
After one episode, the jury's still out on whether all the ingredients are there for a comedy that general audiences will binge on and beg for more of. The groundwork is laid right when we open on Ruth auditioning for a very different kind of role in front of stereotypically exasperated Hollywood casting agents. In fact, she doesn't even read for the part that's being filled, opting to catch them off guard by reading as the powerful male executive rather than a one-line female secretary. The hope is that Ruth will serve as muse for their own epiphany, one that forces them to consider upending onscreen gender norms and insist the director cast aside his narrow scope. When that doesn't work, she simply stalks one of the casting agents, Mallory (Amy Farrington), in the women's bathroom and accosts her for an explanation.
That's Ruth in a nutshell. Her first scene offers useful background for understanding how this seemingly timid, down-on-her-luck actress — who lives in a fly-infested apartment and panhandles her parents for utility money — finds desperate motivation to ignore Sam's initial rejection and crash the first day of GLOW training, in character as a she-goddess subbing Tennessee Williams for trash talk. The only catch is her audacity never quite leads where she wants. Accosting Mallory opened a door to experimental female combat, not the thespian chops she flexes (hopelessly) in scene study or honed (pitiably, we assume) at clowning workshops back in Omaha. And here, her unsolicited callback theatrics fail to impress Sam or the other women. Only after Debbie enters the ring, fuming upon discovering that Ruth had slept with her husband (played by Rich Sommer, a.k.a. Mad Men's Harry Crane, whom both women presumably come to realize they are too good for), does business pick up and fortunes turn as the two trade spontaneous fisticuffs.
The laughs in this opening bow, as so often the case for any pilot regardless of how it unpacks its remaining episodes, are secondary to going around the room and getting first impressions of the cast. Outside of Sam, Ruth, and Debbie (who was a soap actress before choosing stay-at-home motherhood with a philandering spouse), backstories are sparse. But with Orange Is the New Black executive producer Jenji Kohan aboard as executive producer for GLOW, joining creators and ex–Nurse Jackie writers Liz Flahive and Carly Mensch, there's reason to be hopeful that flashbacks and locker-room revelations will be plentiful. We do at least learn that Carmen is a legacy in the game, descended from grappling icon Glide Jackson and one degree from brothers/reputed tag team the Lumberjacksons (a joke that would feel like a low blow if there weren't presently actual pro partnerships leaning on wordplay, à la Breezango). It's not entirely clear how Carmen knew it would be a wrestling tryout, or if it was just a coincidence to underscore Ruth's comparatively poor luck, but such nitpicks are slim to none.
There's a Police Academy vibe to the whole thing, and the heartiest guffaws are delivered by the quirkiest co-stars, especially one overly aggressive competitor who bellows about still being "in the fucking game" after squashing her counterpart. Or Sheila the She Wolf (Gayle Rankin), a goth misfit who announces herself with a crumpled, wallet-sized image of her namesake lycanthrope. Or even shy Arthie's (Mr. Robot's Sunita Mani) geeky giggle at the notion of taking on a more imposing persona.
Still, the premiere belongs to Brie and Gilpin, the latter of whom was a huge asset to Nurse Jackie. They're equally magnetic as funny, self-aware (if not quite self-possessed) women powering through aerobics classes and enduring respective ruts while inching toward a personal revolution that might get magnified for a broader generation. At minimum, unlike in Ruth's scene study, no one watching them on Saturday mornings will be put to sleep.
Apart From All That
• Really nice job by director Jesse Peretz and crew creating a lived-in '80s feel, not a more parodying vibe.
• Paradise Cove was not a real soap opera, but it is a tourist locale.
• Chavo's boxing gym is a likely tribute to the show's behind-the-scenes trainer, wrestling-dynasty great Chavo Guerrero Jr.
• All hail Kia Stevens, a.k.a. real-life women's wrestling legend Awesome Kong, who is totally going for it as Tameé.
• Prediction: Marc Maron will be to GLOW what Tom Hanks was to League of Their Own.
• I love the vintage kitchen appliances in Ruth's apartment.
• Teenagers are the worst, but teenage skaters? Forget about it.
• Smart move nabbing Craig Wedren (formerly of the post-hardcard band Shudder to Think) to work his composing magic here, as he's also done for Wet Hot American Summer and others.