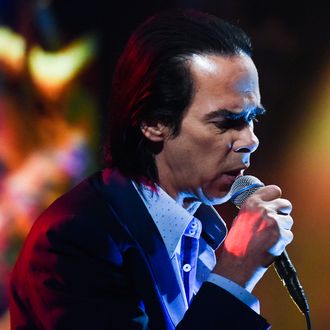 Nick Cave.
Photo: CBS Photo Archive/CBS via Getty Images
The Beacon Theatre is a peculiar Upper West Side fixture: The colorful paintings and gilded pillars inside the decadent space run in stark contrast to the mix of stately sophistication and residential coziness struck up by storefronts and apartment buildings outside. Beacon's extremes made a fine backdrop for last night's main attraction, the Australian singer-songwriter and author Nick Cave and his band the Bad Seeds, who filled the room with chilling gothic folk and earthy blues to match the imposing ghoulishness of the golden Greco-Roman warrior statues on either side of the stage.
Cave is on tour pushing last fall's quietly unsettling Skeleton Tree and this spring's Lovely Creatures, a four-hour career retrospective that cherry-picks four dozen moments of excellence from 35 years of Bad Seeds collaborations. The differences in the character of both records made for a dynamic set list. Skeleton Tree is stripped and elegiac, often comprised of little more than Cave's craggy voice, the cold hum of a synth, and a drummer's deathly rattle. It arose from trying times for Cave: As recording neared completion, he learned of the tragic passing of his 15-year-old son after a fall from a cliff. Cave's music has long fixated on loss and death, but more than a few of Skeleton Tree's pained proclamations — "They told us our dreams would outlive us … but they lied," "The things we love, we lose" — feel discomfitingly prescient.
The band played seven of Skeleton Tree's eight songs throughout the night and frequently dipped into its rich back catalogue of murder ballads and fever dreams. "From Her to Eternity" is every bit as suffocating as it was on the 1984 album of the same name. 1996's "Stagger Lee" crossed gritty blues and crass hip-hop swagger. "Jubilee Street" from 2013's Push the Sky Away boiled slowly into a loud double-time coda. The Bad Seeds' versatility is formidable thanks in part to utility player Warren Ellis, who picked up everything from violin and viola to guitar and piano, and touring musician Jim Sclavunos, who switched between keys and percussion. The band excels at skeletal balladry and the queasy sense of a storm coming. It always feels ready to collapse into a fit of noise but rarely commits, hanging suspended in a tension it mercilessly refuses to release.
All of this supports Nick Cave's stage front spectacle. Tall, wiry, and well-dressed, he effected the passion of a street preacher and the jerky desperation of a junkie. He walked with purpose, waved his arms in pointed gestures, and ventured into the crowd as one might tempt a lighter's flame with a hand, passing through quickly before it got too hot. (A few times it did, though: One stage dive ended with a strange hand sliding lasciviously up his stomach, to which he quipped, "You're so strong!" and slipped back into the comfort of the stage.) "The Weeping Song" included a whimsical audience-participation game, as Cave baited everyone to clap along, then ordered them to stop and start again unexpectedly. For the encore of "Stagger Lee," he pulled two children from the audience to dance with him, and slowly invited up whoever else could fit on stage to party through the song. The night closed on the singer wading halfway through the theater for "Push the Sky Away."
The show lasted the better part of two hours but felt like a matter of minutes. The Bad Seeds fold even time to suit their purpose, patiently stretching slow tunes out to the five- to seven-minute mark without ever feeling aimless or jammy. It's mood music, really. Ellis and crew make brutalist backdrops for Cave's grisly storytelling. You stick around because you want to track the growth (or more likely, the death) of a fascinating character and pore over a hard-won lesson pulled from adversity, or because you're simply drawn to darkness. "Some people say it's just rock and roll," Cave sang on "Push the Sky Away," "Ah, but it gets you, right down to your soul."