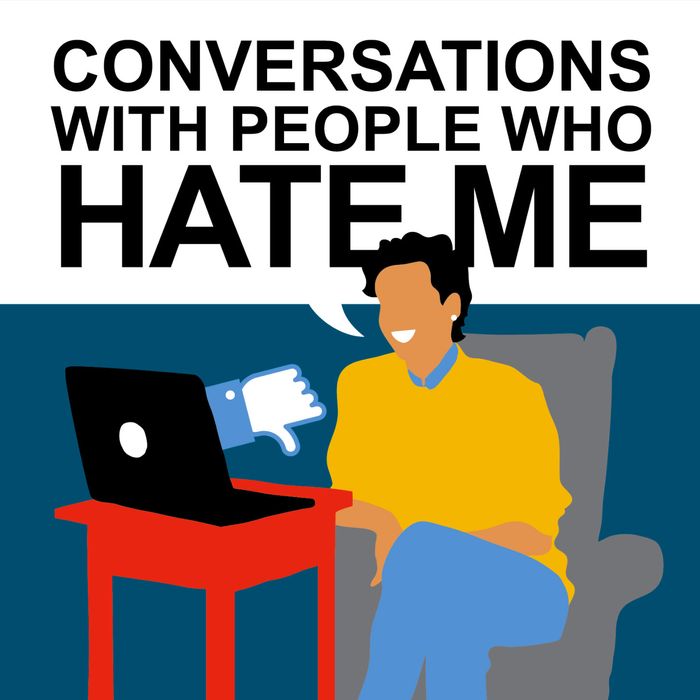 Dylan Marron's Conversations With People Who Hate Me.
It's hard to effectively pin down the sensibility of Night Vale Presents, the indie podcast label born out of the highly popular Welcome to Night Vale. Looking at its output so far — Night Vale proper, of course, but also the surreal Americana road trip that is Alice Isn't Dead, the unfolding creepy mystery-box sensibility of Within the Wires, and the phantasmagoric The Human Orbiting Circus (of the Air) — you could say that it's distinctively a home for creating wildly experimental and soundscape-forward exercises in audio fiction and narrative, often reveling in bending the rules of linearity, plot, and exposition.
The label announced its first foray into nonfiction programming this week, with two projects in development that'll roll out across the year, and both are bound to add yet another layer of complexity to their portfolio.
The first is called Conversations With People Who Hate Me, and the show is built on a premise that goes straight to the heart of one of the darker nodes that make up the underbelly of life on the internet. The project is led by Dylan Marron, who Night Vale fans might recognize as the voice of Carlos, the town's resident scientist and spouse of narrator Cecil. Over the last few years, Marron has built out a body of work, creating online videos with social-justice themes — you might have come across his "Every Single Word" video project, which cuts popular movies down to only the words spoken by people of color, often resulting in an unsettlingly short video — and he's consistently found himself the recipient of hateful messages. Conversations features Marron's attempts to sit down with, engage, and understand some of the people behind those messages. It's a compelling, high-wire concept, and one that brings to a whole other level (and maybe ends up deconstructing) the idea of "engaging in dialogue" with "someone who disagrees with you." Marron's work is consistently whip-smart and deeply aware of the multilayered nature of things; one expects to see all of that baked into this upcoming project.
Night Vale Presents' second nonfiction project can perhaps be described as a take on the music documentary, though that description might not be enough. I Only Listen to the Mountain Goats is set to be a deep dive into the sonic world of the beloved American indie folk band. Hosted by lead singer John Darnielle and Night Vale co-creator Joseph Fink, the first season will explore the band's sixth album*, All Hail West Texas, with each episode training its focus on a different song on the record, with Darnielle and Fink in conversation about songwriting, storytelling, and current events. (Each episode will also feature a cover version of the song in question, performed by artists like Sylvan Esso, Andrew Bird, and Amanda Palmer.) I Only Listen to the Mountain Goats appears to be less of a music documentary and more a companion guide, and it seems ripe to challenge the way we think about what's possible with the music-podcast genre.
Conversations is scheduled to launch on July 31. The first season will run for ten episodes, released weekly. I Only Listen to the Mountain Goats is set to roll out sometime in the fall, but the actual date remains unspecified.
* This post originally misstated where All Hail West Texas falls in the Mountain Goats' discography. It is their sixth album.