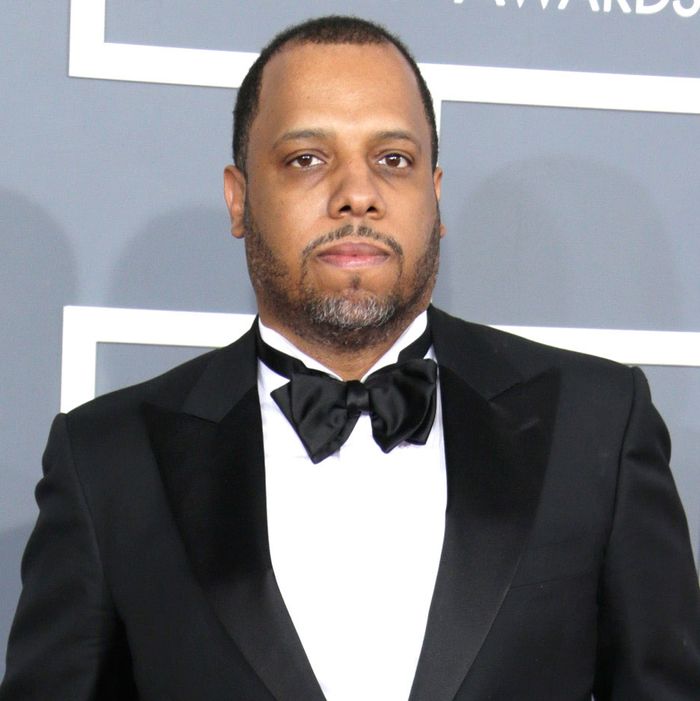 No I.D.
Photo: Jeff Vespa/WireImage
By now, you know that Jay-Z's 4:44 was produced entirely by No I.D., the Chicago-born producer responsible for some of the best beats in hip-hop. But to leave it at that would be reductive. No I.D.'s career is as storied as it gets: He's the one who helped define Common's sound and inspired Kanye to start producing in the first place. No I.D. is an essential part of Chicago hip-hop history, but he also changed — and, astonishingly, continues to change — the sound of rap as a whole. He's also a vital part of the industry in less obvious ways, acting as president of Kanye's GOOD Music, and later as vice-president of A&R for Def Jam. It wouldn't be wrong to write about every great track he ever produced, but here are ten highlights that track his evolution as a producer, from his early days with Common onward.
Common Sense, Can I Borrow a Dollar?
Produced under the name Immenslope, with extra help from Twilight Tone and the perpetually underrated Beatnuts, Common (who was then going by Common Sense) developed a signature knotty lyrical style, backed by No I.D.'s production, which recalled much of the upbeat hip-hop of the same era. Listening now, you can hear the lived-in warmth that would define No I.D.'s style through much of the '90s.
Common, Resurrection
Just two years after Can I Borrow a Dollar?, No I.D. and Common released Resurrection, a bona fide rap classic that features "I Used to Love H.E.R.," the track that would go on to define a sub-sub-subgenre in itself: songs about an artist's fraught relationship with hip-hop as it became a commercial juggernaut that would define the sound of radio. But "I Used to Love H.E.R." also succeeds on the breezy summer-evening vibe of the beat. His production on Resurrection leisurely unfurls, never getting in the way of Common's intricate verses, but not hiding in the background either. Though Can I Borrow a Dollar? features some exciting, innovative work from No I.D., it's the album-length statement of Resurrection that truly cemented his status as a producer to pay attention to. After this, he'd go on to produce the entirety of Common's One Day It'll All Make Sense, a lush album that reads more as jazz than rap, and would pave the way for Common's neo-soul period.
Beanie Sigel, "Man's World"
By the time Beanie Sigel released "Man's World," it was commonplace (and sometimes extremely expensive) to sample James Brown, but No I.D. chops up Brown's hoarse "This is a man's world," dropping it over twinkling piano and staccato drums. It's tracks like this that would influence Kanye's earlier production style, and innovated new ways to utilize soul samples.
Ghostface Killah feat. Sheek Louch and Styles P, "Metal Lungies"
When it was released, The Pretty Toney Album felt like the unhinged album that Ghostface was born to make. He sang — usually completely out of tune — over soul samples, often sounded like he was out of breath, and generally acted as a vocal tour guide through an impeccable collection of hard-nosed soul-sample-led New York rap songs. "Metal Lungies," No I.D.'s contribution to the album, is possibly the most opulent track on what ended up being a very luxurious album. It sounds like breaking really expensive crystal champagne glasses in a banquet hall you're definitely not supposed to be in.
Kanye West, "Heartless"
Maybe "Heartless" actually explains all of No I.D.'s post-'00s success. A year after the release of Kanye's heart- and soul-breaking Auto-Tune album, No I.D. would produce Jay-Z's unfortunately tone deaf "(D.O.A.) Death of Auto-Tune." What that says is that No I.D. is an expert at reading trends, helping artists expand on their ideas, and putting ego aside in service of larger ideas — and "Heartless" is nothing if not part of a big idea. Though 808s would prove to be hugely influential on rap as a whole, at the time of its release it was a shocking left turn for Kanye. This track is one of its more traditional moments, built on a digital reggae tick and a sparse handclap. It sounds nothing like the lush jazz-influenced work No I.D. perfected more than a decade before this track's release.
Jay-Z, "(D.O.A.) Death of Auto-Tune"
Jay instantly dated himself with the line, "This is anti Auto-Tune, death of the ringtone" (the ringtone was already dead, and "ringtone rap" had innovated in the form of snap music and then moved on — meanwhile, Auto-Tune is still a vital part of modern rap music), but this track is actually pretty good, message aside. No I.D. would go back to the production well displayed here again and again: melding what sounds like live instrumentation — an appealingly messy guitar solo — to thunderous drums.
Pusha T feat. Future, "Pain"
Though Pusha T is undeniably one of the better rappers around, it's equally undeniable to say that his best work happens when he's partnered with the Neptunes. That said, No I.D.'s beat for "Pain" from My Name Is My Name, does the impossible, providing a tense backdrop for vocal opposites: Pusha's earthy deadpan and Future's pained warble. The drums snap so hard you can virtually feel them.
Big Sean feat. Jay Electronica and Kendrick Lamar, "Control"
You can't listen to "Control" on any streaming service, and that is crazy. The sped-up vocal sample that appears throughout couldn't be cleared in time to make Big Sean's Hall of Fame, so it lives on as a YouTube favorite that also happens to feature one of the most jaw-dropping Kendrick verses put to tape. On it, Kendrick comes after the entire rap industry in what seems like one very long breath. No I.D. has a way of bringing out the best in the rappers he works with, and nowhere is that more evident than this track. In fact, the beat proved to be so popular that hundreds of rappers (including inspired takes from New York underground legends) — never mind random kids hoping to make it big from their bedrooms — took their turns on the beat. It says a lot that even the lackluster efforts sounded pretty decent.
Kanye West, "Bound 2"
Yeezus was another huge left turn for Kanye, and the final track, "Bound 2," was a left turn within a series of left turns. It stripped away the tense industrial electronics that came before in favor of a song about love, or at least love through the lens of Kanye West ("You remember when we first met? Ok, I don't remember when we first met / but hey, admitting is the first step"). To be fair, No I.D. is not entirely responsible for this one. He shares production credits with six other people, including Mike Dean and Kanye himself, but his stamp is all over the track — and even if it wasn't, it wouldn't be able to exist without him.
Vince Staples, Summertime '06
No I.D. produced the bulk of Vince Staples's stunning Summertime '06, laying a blanket of hazy, paranoid funk and sun-kissed claustrophobia over Vince's craggy vocals. Though he became known for producing entire projects for artists, Summertime feels like a perfection of the concept. How many different moods and feelings could he explore? How many different ways could he help Vince convey world-weary sadness? Enough to fill a double album and then some.