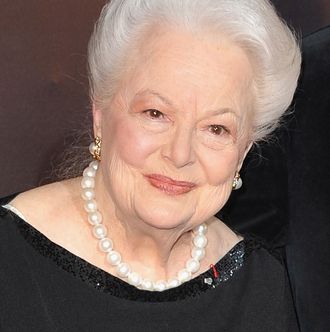 Olivia de Havilland.
Photo: Francois Durand/Getty Images
Remember the good old days when Olivia de Havilland had never seen Ryan Murphy's Feud, presumably because she was too busy being fabulously retired in France to care? Well, either Ms. de Havilland has done some binge-watching or her attorney has done it for her, because she has gone from claiming she couldn't make a valid comment about the show to arguing that "a living celebrity has the right to protect her name and identity from unauthorized, false, commercial exploitation under both common law and the specific 'right to publicity' statute in California." That quote comes from de Havilland's attorneys, who have filed a suit in the Los Angeles Superior Court against FX Networks, LLC and Ryan Murphy Productions for the unauthorized commercial use of the actress's name and identity, and presenting her in "a false light to sensationalize the series and to promote their own businesses."
As this suit comes on the day before de Havilland's 101st birthday, the Los Angeles Times reports that her legal team will be seeking an expedited trial to resolve the matter as fast as possible. "Miss de Havilland was not asked by FX for permission to use her name and identity and was not compensated for such use," her attorneys said in a statement provided to the Times. "Further, the FX series puts words in the mouth of Miss de Havilland which are inaccurate and contrary to the reputation she has built over an 80-year professional life, specifically refusing to engage in gossip mongering about other actors in order to generate media attention for herself."
FX would do well to remember that the Oscar winner already has a landmark legal precedent named after her that was formed after she successfully sued Warner Bros. to get out of unfair contract extensions the studio kept locking her into in the 1940s. California's seven-year rule — Labor Code Section 2855, also known as the de Havilland Law — was a major step in dismantling the Hollywood studio system and putting power into the hands of talent. So perhaps the network should be afraid.