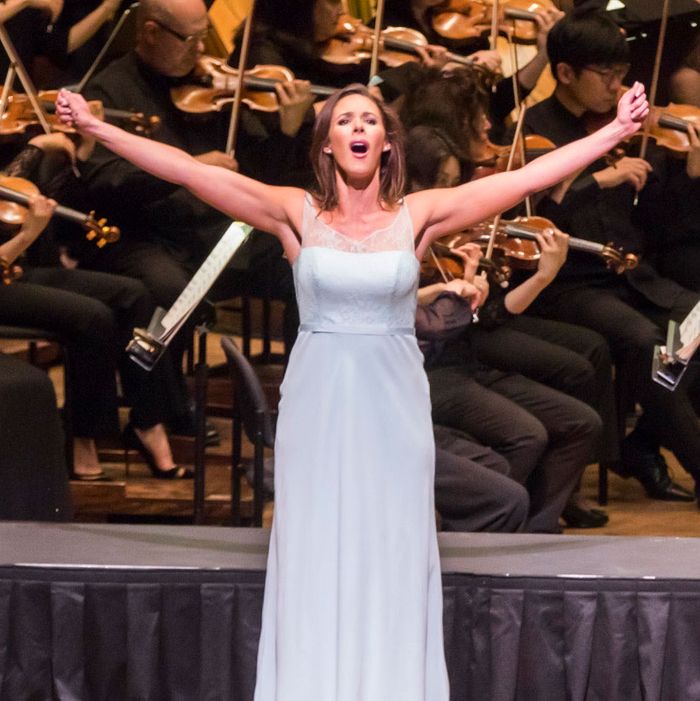 From the Philharmonic's Das Rheingold.
Photo: Chris Lee /Chris Lee
I first grasped the sublime bedlam the conductor Alan Gilbert was capable of unleashing in 2004, when he joined the lineup for the New York Philharmonic's Ives Festival. He sculpted the Fourth Symphony's mayhem, surveying the score's broad New England landscape and twisting its jangling, nattering tunes into a massive, fluid structure. He repeated the same feat in 2013, by which time he had become the orchestra's music director, and he has just closed out the Gilbert era at the Philharmonic with another vividly panoramic work: Wagner's Das Rheingold. I caught the final performance, which would have been a sizzling night at the opera, if it had taken place at the opera instead of being squeezed onto the stage at David Geffen Hall. No matter: With Eric Owens as Wotan, Jamie Barton as Fricka, Christopher Purves as Alberich, and Russell Thomas as Loge, the cast lacked only a weak link.
Gilbert's Rheingold was an answer to everyone who ever reproached him for serving up a tepid interpretation of a chestnut. In the past, he may have sometimes privileged subtlety over drama, infusing the odd Nielsen symphony with too much nuance to really sell it. This time, though, he and the orchestra blazed. All the qualities I recalled from 13 years ago remained, and had been refined: the masterful unspooling of a crazy yarn, glints and details revealing a vast structure, subtlety fused with intensity. Like the Ives, Wagner's score brims with sonic images. Mists part, rainbows materialize, giants clomp, hammers clank, caves glower, and currents burble up from the deep. Gilbert gave each of these events an intimate physicality: When the orchestra galloped, you could feel the heat rising from its haunches.
Gilbert has spent the last weeks of his tenure making sure that we'll miss him. (He leads a final blowout program, featuring an all-star roster of musicians from around the world, from June 8 through 10.) In one astounding concert last month, he followed an exciting if slightly seat-of-the-pants performance by Leonidas Kavakos of Brahms' Violin Concerto with a twofer of Nordic premieres: the Icelandic composer Anna Thorvaldsdóttir's Aeriality and the Finnish Esa-Pekka Salonen's Wing on Wing. The works, both excellent, could hardly be more different. Thorvaldsdóttir's music billows out through the hall in a vaporous rumble, evoking whistling lava fields and long, pale nights. The ear picks up a few fleeting phenomena — gusts, star showers, skittering stones — but mostly Gilbert formed a palpable atmosphere of sound and lit it with a sonic glow. Wing on Wing, by contrast, is an indoor work. It was inspired by Disney Hall, which Frank Gehry designed for the Los Angeles Philharmonic in 2004, when Salonen was music director. True, the title evokes a configuration of sails and the instrumentation includes the prerecorded foghorn-like call of a California fish called the Plainfish Midshipman. But Salonen crafted the intricate score as if with a jeweler's loupe and also made the most of auditorium architecture, placing a pair of sopranos in the balconies to float stratospheric melodies through the enclosed space.
That concert was a reminder of what an enthusiastically collaborative presence Gilbert has been, enfolding colleagues, composers, and soloists in the Philharmonic's sustained embrace. Yet, despite that spirit, he has at times seemed lonely in the maestro's suite, without a like-minded partner in the executive offices to amplify his musical ideas into a long-range vision for a 21st-century orchestra. To take one example, he arrived hoping to lead Messiaen's gloriously ecstatic (and hugely expensive) Saint Francois d'Assise; the bookkeepers kept saying no.
I reckon his tenure was at least 80 percent successful, though in a recent interview with the Times he seemed dissatisfied. "To a degree I lost my stomach to fight for things," he said, "because I thought we were doing good work generally, and musically things were going in the direction I wanted them to." That startlingly candid statement suggests that, in Gilbert's mind at least, the Philharmonic registered his prodding not as an incitement to inventiveness but as a form of artistic nagging. It balked at too much reinvention.
For longer than most of us can remember, America's orchestras have been in crisis, afflicted with terminal stodginess. This is not always a terrible thing. Orchestras are museums, a word often leveled as a slur but that I mean as a compliment: They are living repositories of the past. Week after week, they reenact ancient rites and reproduce the vivid excitement of a time when now-revered scores were new and of still uncertain worth. It's easy to take that kind of living preservation for granted, to shrug it off as the stuff of fusty hobbies. But for many people, a Beethoven symphony or the Sibelius Violin Concerto provides a frisson of freshness, just as every day some reader somewhere discovers the unsuspected pleasures of Pride and Prejudice.
Innovation happens around the edges, and at the Philharmonic, Gilbert used that zone to indulge a sense of let's-see-what-happens adventure. Success was never a given, which was one reason his experiments so often succeeded. Some critics and listeners counter the conventions of orchestral life by clamoring for what it should do: embrace contemporary music, lower ticket prices, dress musicians in brightly colored shirts, do something involving video screens, and so on. Gilbert brought a less dutiful, more optimistic outlook; he thought about what an orchestra could do. He staged Ligeti's opera Le Grand Macabre, Dallapiccola's Il Prigioniero, and Honegger's Joan of Arc at the Stake; mounted a Stockhausen extravaganza at the Armory; founded a regular new music series ("Contact!") and a citywide new music biennial; made Salonen into a de facto member of the artistic leadership; and performed (a few) works by women, including Thorvaldsdóttir, Julia Adolphe, Kaija Saariaho, and Tansy Davies — not because these seemed like expedient ways of satisfying the obligation to be open-minded, but because he actually wanted to. And if you were wondering what an orchestra looks like without that kind of passionate leadership, take a look at the Philharmonic's 2017–18 season, a roll call of Music Appreciation names with hardly a fresh experience in sight.
At the end of Rheingold, Wotan, having set in motion a sequence of events that, three more operas later, will end in cosmic calamity, marches his family of gods over a rainbow bridge to the safety of its new castle, Valhalla. Gilbert made sure to duck out of the Philharmonic's story before the orchestra would have to hit the road, renovate its hall, or march back to the new, half-billion-dollar castle. While the orchestra figures out how to rebuild its finances, its artistic identity, and its home, Gilbert will export his velvet revolution to some as-yet-unnamed place that appreciates him more.