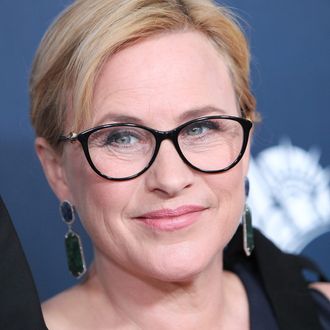 Patricia Arquette.
Photo: Leon Bennett/Getty Images
Patricia Arquette has stayed in her corner long enough, but now that Donald Trump has rung the bell on Twitter, she's untaped the gloves and is coming out swinging. This morning, the commander-in-chief of these United States posted a tweet that can best be described as gross and inappropriate about Morning Joe co-host Mika Brzezinski. The president, who is known to be sensitive about the size of his "ratings," set it up with this:
Before going for the ad hominem attack with this:
Sane corners of the internet quickly reacted with disgust, but Arquette is firing back with a veiled threat — not one involving violence, but one involving an apparent hot pot of tea that's on the verge of spilling.
Who are these people? Where are these streets? Come through, Patty, and tell us all about it! Arquette's mini-thread stopped short of dishing out the insider information she implies she has, which makes one wonder: Is this Arquette's Comey tape moment? Does she actually have the receipts to fulfill on this promise of damaging gossip, or is she just engaging in some witness intimidation? If it's the latter, the holder of the Oval Office might respect her obfuscating tactics, since he's known to run a smoke show of his own. As Arquette points out, Trump often runs interference on social media to divert news from what he's actually doing in the White House.
If it is true, however, that the outspoken actress knows where Trump keeps some of his secrets, her Twitter account might be a time bomb. Until we find out for sure which reality we're living in, Arquette is putting the president in time out.