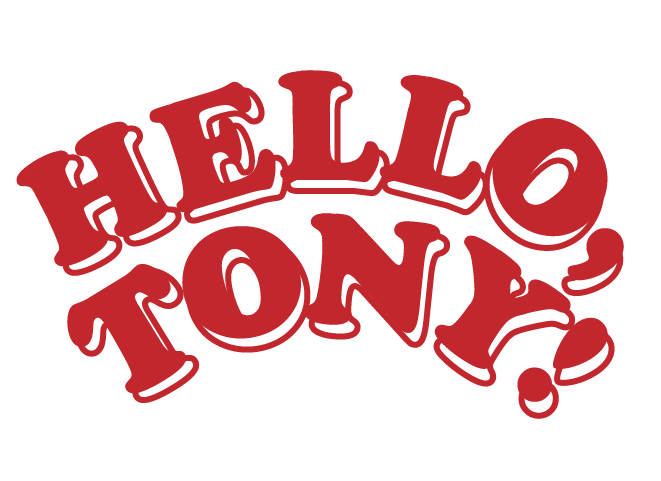 In her dressing room at the Nederlander Theatre on a Tuesday evening, Patti LuPone is doing her makeup for War Paint, which, she claims, will be her last Broadway musical. Of course, nothing is certain, but for now, the actress has made up her mind. She's working through a grueling, eight-shows-a-week schedule playing the cosmetics magnate Helena Rubinstein, recording a cast album, and campaigning for the Tonys (both LuPone and her co-star Christine Ebersole are nominated). She doesn't know how long her voice will last, and she'd rather not step into character acting or be "put in a box" on the side of a poster. "Why not go out in a blaze of glory as Helena Rubinstein?" she says. "In a great part, with great music, and one more costume change than Evita!"
Evita, for those unaware of theater history or LuPone's recent diss of the film adaptation, is the show that launched her into stardom and earned her her first Tony in 1980. It's one of the many shows LuPone is famous for, along with Les Misérables, where she played the original Fantine, her comedic turn in Anything Goes, and recent revivals like Sweeney Todd and Gypsy, the latter of which won her a second Tony. As LuPone applied her makeup for War Paint, and later her wig, she sat down with Vulture to discuss the show, her most famous roles, and why she prefers not to be recognized offstage.
So, Scott Frankel, who wrote the music for War Paint, approached you out of the blue with the idea of playing Helena Rubinstein?
Yes, he came up to me on the street at night outside 54 Below and said, "I have a role for you," and then I found out what it was. I don't normally turn down things that are offered to me, and I love Scott and his music, so it was sort of a no-brainer. I'm not often offered original material. That was five years ago. I think we did four workshops, and we worked on it for three years before we went to Chicago.
During the workshops, what were you trying to refine in the production?
I think it was just developing a character. Doug Wright is a great writer, and the more research that I did on Helena, the more I was able to contribute in the room. My process is instinctual, it's organic, and I was just making sure that I was connecting the dots in what Doug had written and what Michael Korie [who wrote the lyrics] and Scott had written.
I did want to understand what the atmosphere of what their roles were. Was it going to be a rivalry, or was it going to be a statement about these women and what they accomplished at that time in society, in that period? I urged them to veer away from a catfight — it could've so easily gone into camp, and that would've been a great disservice to the two of us and the two women we're portraying. So it was decided very early on that this would be about the accomplishments of these women and their individual trajectories and journeys in life.
Helena's costumes and jewelry are so impressive. Were you imitating specific items she owned?
I think they did, certainly the charm bracelet. And there was a five-row strand of pearls, which is here someplace. I think this is the strand … [LuPone points out a wall of Helena Rubinstein portraits in her dressing room.]
She would layer jewelry upon jewelry. The bracelet … is it over here? There's one massive bracelet.
Do you have a favorite piece you wear in the show?
No. Well, I love the bracelet, the look of "Forever Beautiful" [Rubinstein's last solo]. I met her great grand-niece. I said to her when we met her in Chicago, "Oh, we're emulating the bracelet," and she said, "Oh yes, I remember playing with that in the Paris apartment." Someone asked what I admire about her, and I admired her real estate. She had serious real estate.
You recently said you thought this might be your last musical.
It is.
Are you certain?
As certain as I can be about anything. This is the last musical. They're very difficult. I think they're more difficult because of automation and technicals. Tech is longer and more exhausting, and this one may have been more difficult because of the recording and all the Tony stuff, and we went in right under the Tony wire. But … I don't know how long my voice will last. By the time another one comes along I may not have a voice. I don't want to have be character woman and be put in a box [on the side of a poster]. I can't be a leading lady forever, so why not go out in a blaze of glory as Helena Rubinstein? In a great part, with great music, and one more costume change than Evita!
I love doing musicals and I love performing onstage and I don't think I'll ever stop performing onstage. I'd like to do more plays. If I'm going to come back to Broadway, it'll be in a play. I'm saying that now. Something might come along and I'll change my mind. But right now, this is the end.
What else would you do? Would you go to TV?
Yes, TV! I want to go back and do TV. It's less pressure. You just do your job, go home, and when the Emmys come along you're so far removed from what you did if you get the nomination! That's the thing about TV and film — you're far removed from it when the nominations come out. It's over, you've done your season and whatever. Here it's immediate. The reviews — they're immediate! You can't go anyplace. You're on stage the next night. If you got terrible reviews, you go on stage the next night and you're like, "Okay."
That's what it was with The Anarchist [the 2012 David Mamet play that starred LuPone and Debra Winger]. Bad notices, bad producer. Bad notices close the show. In my opinion, producers only know how to produce when they get bad reviews. If you don't know how to produce when you get bad reviews, you're not a producer, because you don't need to produce a hit.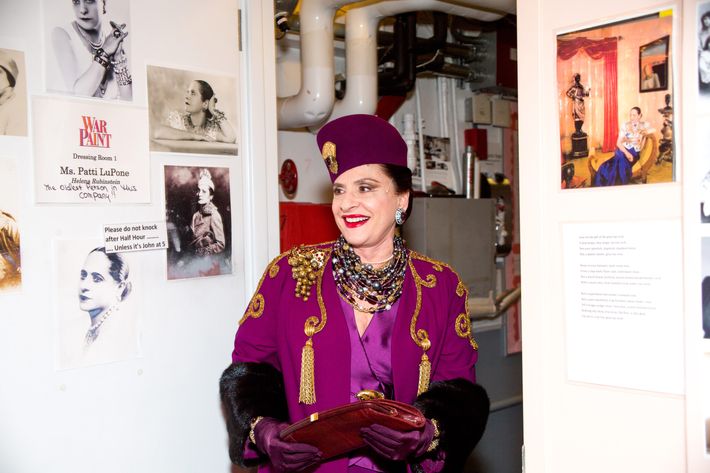 You did that stint on Crazy Ex-Girlfriend …
Isn't it the best? She's so fun!
How did that come about?
I was in L.A. talking to my manager who asked what shows I like. The ones I like are Silicon Valley, Veep, and Crazy Ex-Girlfriend, as far as comedies are concerned. She called the producer of Crazy Ex-Girlfriend and said, "Patti loves your show." They went, "Just a minute," called back and said, "You've got a part." So I played Rabbi Shari. [Crazy Ex-Girlfriend creator] Rachel Bloom is the only person in film today that knows how to do musical numbers.
What do you mean by that?
She understands the spontaneity, how to lift it from talk to song, so it makes total sense. We were prerecorded, but their camera department, their directors, her music staff, and she just know how to do it. I've always said TV is a proscenium. So a lot of times with these musical numbers on TV, in my opinion, you want to see the whole thing, and you want to see the atmosphere that created it. You want to see their bodies, you want to see their legs. I got dizzy watching Chicago, because it was like the MTV cuts from those videos. I got nauseous! How can you have an emotional reaction to something unless you're taken on a journey? You can't if you're constantly cutting.
When a production with a role you're known for, like Evita or Les Mis, is adapted into something else, do you feel ownership of it?
You know what the ownership is? You know what pisses me off? When they do movie musicals, they don't pay enough attention to the stage production that allowed them to make the movie. That is not my ownership; that is the creator's ownership, that is the director who came up with the concept. When Evita was made in '96, two things happened that were shocking. They wanted me to play Evita's mother — but that wasn't shocking. Then, my agent at the time told the studio, "Why don't you talk to [original director] Hal Prince?" and they didn't even know who he was. That, to me, is blatant disrespect.
As far as Les Mis is concerned, maybe they just wanted to get it on, and maybe that's what [producer] Cameron Mackintosh wanted to look at the tonsils, I don't know. But when you look at what directors Trevor Nunn and John Caird did in the original production, it was pretty extraordinary. If the writers, Alain Boublil, Jean-Marc Natel, and Claude-Michel Schönberg, agreed to however they cut it [she shrugs]. But as the actor, the ownership I have is my performance and nothing more.
On Crazy Ex-Girlfriend you're Rabbi Shari, in The Comedian you were Florie Berkowitz, and on this you're Helena Rubinstein. You keep playing Jewish roles.
I'm a Jew! I just saw Jerry Zaks, and I was like, "I'm an honorary Jew!"
Is there a reason behind the trend. Do you just find that people offer you those parts?
I guess so, lately.
I guess there's a certain kinship with fellow immigrants to America.
What's the difference between an Italian and a Jew? Nothing, really. But in between all that I played Doctor Seward, the Cut-Wife [in Penny Dreadful], who was not a Jew. I don't know what she was, but she wasn't a Jew.
How did you end up on Girls?
I got a shout-out, so I wrote to Lena Dunham thanking her, and she said, "You want to be on it?"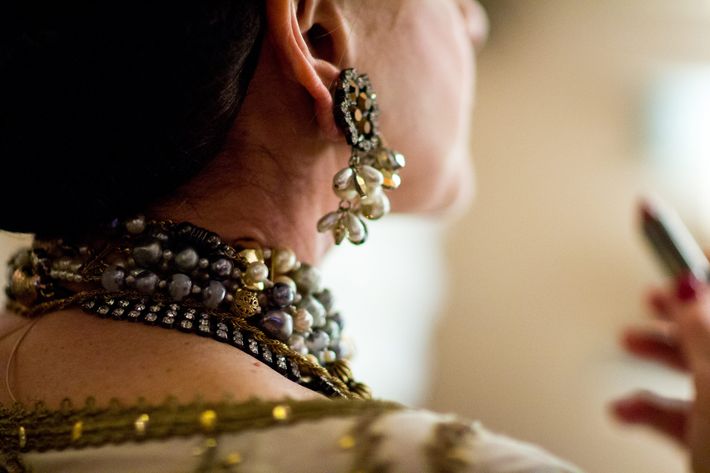 What was it like to play yourself?
Well, it was a version of myself, a drunk Patti LuPone. It was great working with Reed Birney, Lena, and Andrew Rannells. I had so much fun …[laughs]. I want to be in a comedy.
I'm interested in how you see yourself as a star. In your memoir, you wrote that when you were in Evita, you didn't listen to people telling you to dress up like a star as you exited the stage door.
No, it's not that. Carlos, the dance captain, used to tell me I didn't have to dress up. Mary Martin might have, and Ann Miller certainly did, but I have never. When I first moved to NYC, it was the late '60s and the city was about to go bankrupt, so I dressed like I didn't have money so I wouldn't get mugged, and I never grew out of that habit. I always dress kind of like a slob. I never wear makeup, because I wear so much of it every day. I have to give my face a rest.
The idea of drawing attention to myself has never been something that I was comfortable with. It prevents me from observing humanity, you know, sitting on a park bench and just looking. I'd prefer not to be recognized so I can remain an observer. Nobody ever does recognize me because they think I might be a six-foot-tall blonde. I used to walk out the stage door and look people in the eye who were waiting for Evita to leave the door, but she just left! I'd go out in my little overalls and my long brown hair, and that was it.
I've also always been shy in my own life. I'm certainly an extrovert, but I'm also an introvert. You see some people and you're drawn to them. I don't have that, I've never had that, and I don't know what it is. I guess all that is reserved for the stage. In my life, I lead a really, really quiet life in Connecticut and I don't do anything. I prefer to stay home. That's why I commute. I wake up in green.
You've talked about trying to find a new interpretation of Mama Rose when you did Gypsy. What's important to you about finding a new interpretation of a work?
Because I don't want to imitate. John Doyle's production of Sweeney wasn't Hal Prince's, so there was no way to do Angie's [Angela Lansbury's] performance. I read a script and I see it a certain way. I don't try to be different, I just read it differently than someone else. I think that's true of all actors: They look at it in their own mind's eye. So it's not that I go out intentionally trying to do something different than the last production, it's just how I read it.
Now that you can find clips of old performances on YouTube, it just seems easy to find a standard interpretation to develop. Do you think it's harder for people to break out of that?
For actors, it depends on their training, it depends on their ability to create, the creativity they have in their body. If it's a good part, if it's a universal part, it can withstand a myriad of interpretations within the context of the play, as long as it's hitting all the right emotional notes, you know, to progress the character. Look at how many different Hamlets there are!
[The half-hour call comes on the speaker in the dressing room.]
Do I have my makeup on? [Checks mirror.] Yes, I do.
I remember you saying that, before you did Anything Goes, you felt people had forgotten you could do comedy.
Exactly, they did because Evita left its mark — well, I did make them laugh at the end of the first act and I did make them cry at the end of the second act.
When you play a character like Evita, who's abetting this horrible regime, how do you approach that as an actor?
I have to win the audience over to accept what they're seeing. Stanislavsky said you can't play a villain without showing their good points. There has to be humanity. They have to be recognizable to an audience, whether you like them or not. My applause used to dip after Mandy's, and it broke my heart. But people still remember my performance to this day. They couldn't make up their minds about her. I kept saying, "It's because I'm doing such a good job!" [Laughs.] It used to break my heart, but they still remember my performance. I think that's what theater is — a memory, a treasured memory.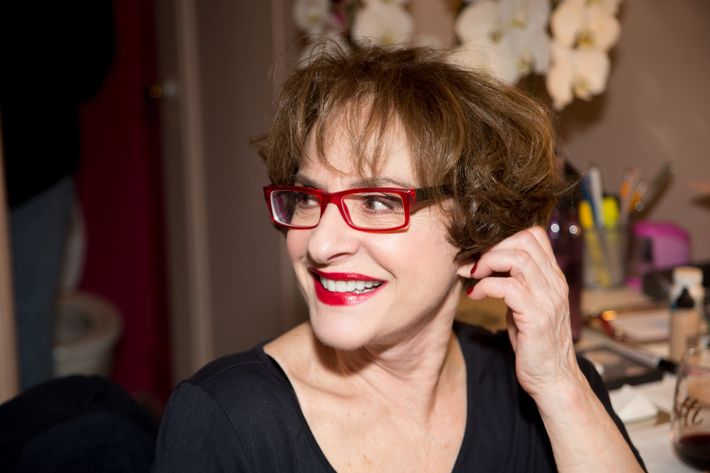 You've been critical about the way the press can set up feuds between women in theater, like comparisons between the London and U.S. productions of Evita or the bitter history of the New York and London productions of Sunset Boulevard. Do see War Paint responding to that?
Absolutely. Why do people want to see women feuding? How come we don't want to see guys feuding? Is it sexual? What is it that makes people want to see fighting between women? What is it? Why do we all want to see women mud wrestle instead of men mud wrestle? What the hell?
In War Paint, there's only a slight bit of cattiness in it when we talk about each other, but that is humorous, it's to be expected. But to make an entire evening of that would make these women unattractive. Power is attractive and there's something powerful about these women that made them attractive. You don't want to alienate an audience, you don't want them to go, "Shut up! Get over it already!" You want them to be fascinated by these people. I don't know if we're achieving that, but I think we are.
[She looks up at the clock.]
Seven o'clock curtain! That means we get outta here early!
How do you preserve your voice during these runs?
For me, a lot of quiet time is the best thing. The muscles want to relax. The disco days are over. I can't even go into Bar Centrale. There's a Thursday night at Sardi's for actors that's wonderful, but it gets so loud that when you start talking over the din, you come home with no voice. It's the first thing that goes. If somebody wants to take me out, we have to find a quiet corner someplace.
Since you started on Broadway, do you think the theater community has changed?
Joe Mantello started that night at Sardi's because there are no more theater parties. It's only Joe Allen and Bar Centrale. It used to be Jimmy Ray's, McHale's, Charley O's. They're all closed, and nothing stays open anymore. I called the 21 Club to get John Doyle a real New York experience after the show, and they said, "Last seating is 9:30." I yelled, "YOU WERE A SPEAKEASY!" I don't know why, but it's harder to go out.
Times Square has changed a lot, too.
Well, they took the focus off the theater district, that's for sure. It used to be literary and theater, and they put it on a jumbotron next to a museum. It's very depressing. You have to fight to get to the theater.
This interview has been edited and condensed.