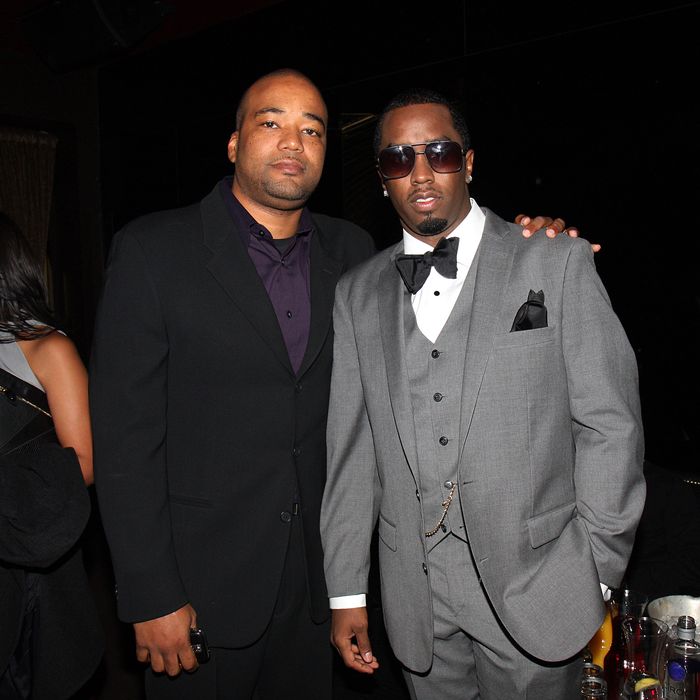 Chris Lighty and Sean Combs.
Photo: Johnny Nunez/WireImage
When contemplating the biography, it's fun to consider what different mediums are able to bring to the genre — and, conversely, how different mediums are limited within the genre. A series of worthwhile questions in this arena: Is it possible to tell the story of one life effectively, in totality or in essence, beyond an 800-page written tome? (Shouts to Ron Chernow.) How about a one seven-hour-long documentary? (Further shouts to Ezra Edelman.) Can a two-hour biopic ever suffice? (All eyes on that new Tupac movie.)
Over the past six months, a curious biographical wind has been coursing through the highest peaks of podcasting, and between S-Town and Missing Richard Simmons, the medium has begun to provide its own quiet answers to the question. Now we can add Mogul: The Life and Death of Chris Lighty, a six-episode limited-run series, which came out exclusively earlier this year on Spotify and is now being distributed everywhere else, to the list of podcast projects within that wave. And it's a pretty good addition too.
Mogul endeavors to tell the story of Chris Lighty, the legendary music executive whose various machinations are said to have ushered in the modern era of the (extremely lucrative, extremely powerful) hip-hop industry. It's a rich, lush story full of potent context, but Lighty's story is shrouded by ambiguity as well. Lighty died in 2012 from a self-inflicted gunshot wound, for reasons, and under circumstances, that remain unclear to this day. If you didn't know this going into the podcast, you learn it very early on. It's a biographical fact that defines the terms and tone of the project, setting every event within an inevitable, pounding momentum. To its credit, Mogul never lets that fact lead the story, but it gets there all the same.
There are tons of intriguing similarities that one could draw between Mogul and its biographical peers, S-Town and Missing Richard Simmons. With the former the podcast shares the shadow of suicide and the pallor of loss. As with the latter, there exists the ever-present heat of ambition and celebrity. And between all three, there appears to be a connective thread of issues related to mental health and its relationship to deeply held internal desires for more. But Mogul, by a long shot, is perhaps the most interesting of the three productions — though, I hasten to add at this point, that isn't the same as saying it's the best — for a number of reasons.
To begin with, Mogul is a story about hip-hop, which means it is definitively a black American story. In the often overwhelming white universe of podcasting, that's reason alone to bump interest levels up a few notches. And it's a story narrated by an insider, Reggie Ossé, a contemporary of Lighty who came up through the scene as an entertainment lawyer back in the day, and the voices that carry the narrative forward on tape are made up of various characters that were part of the scene.
But the thing that makes Mogul really interesting is the way it flickers back and forth between being a biography of a person and being a partial documentation of hip-hop history. One of Mogul's organizing principles appears to be the idea that the two things are one and the same, which is a really powerful philosophical statement on the life of a person and an intoxicating inroad into the story. In practice, it does end up feeling like the production struggles in moving back and forth between those two modes, and those modes ultimately turn into arbiters of a kind of tunnel vision: Even after the sixth and final episode wraps, one is left with a distinct sense that there are huge (and perhaps defining) parts of Lighty that remain unknown, and that there are broader truths about the hip-hop industry during that historical period that are happening "offscreen."
Nevertheless, Mogul does a lot with its six episodes, and there is so much being packed into them that demands to be admired. The podcast is crafted with tremendous care and attention, operating at the highest level possible. It's worth noting that Mogul is the product of a smart collaboration between Gimlet Media, the network responsible for richly produced narrative hits like Mystery Show and Homecoming, and the Loud Speakers Network, a podcast company co-founded by Ossé himself, that's built a very strong niche in the podcast industry as the purveyor of black, hip-hop-oriented programming. The two styles blend seamlessly to become more than the sum of their parts, yet retain each organization's distinctive sound.
The podcast most explicitly shines in the excellent and thrilling setpieces that form the nodes of each chapter — an altercation between Lighty and DMX; the unveiling of Warren G; an office shoot-up during Lighty's 50 Cent era; the joy and political complexity of Lighty's wedding — all of which boisterously draw on some stellar sound design, smartly deployed narration, and rich interview tapes to paint truly vivid pictures. If there's a standout setpiece, it's the sensational introduction to the third episode where Ossé, in concise fashion, gamely lays out the aesthetic landscape of the various scenes that make up early hip-hop. "In the beginning, there was East Coast hip-hop," Ossé narrates. "And East Coast hip-hop sounded like New York City." In what ends up being an audacious sample of Song Exploder, Ossé then moves to thread the sounds of the city with the beat of LL Cool J's early hit "I Can't Live Without My Radio" before contrasting that composition with the West Coast sound, as represented by Dr. Dre's "Nuthin' but a 'G' Thang." It's a bravura sequence and, interestingly enough, it encapsulates what appears to be one of the podcast's core philosophical practices: the world and the individual, the personal and the universal, the man and the industry, intricately woven as extensions of each other.
But setpieces alone don't make up a life, and the absence of meditation on the gaps in between are perhaps Mogul's biggest limitation. Ossé and his team do an incredible job highlighting Lighty's enduring legacy — the albums he helped bring into existence, the artists he brought into the culture, the deals he pioneered that led to the building of empires, all the things and people he left behind — but throughout its short run, the podcast wasn't quite as effective in communicating Lighty as a person. A lot of this, it could be argued, has to do with tape and access; Lighty is primarily presented as a composite of other people's recollections, and Lighty himself is only directly present through sporadic archival tape. That said, you could argue that the very same limitations applied to Missing Richard Simmons which, despite all of its controversies and potentially questionable decisions, ultimately ended up being effective in communicating the man's historical legacy (and, to some extent, shades of his personal universe). Your mileage might vary with Mogul as an examination of the hip-hop industry, depending on your feeling of whether the podcast sufficiently explored some of the more pressing questions relating to the hip-hop industry: questions like mental health, destructive masculinity, domestic violence; all things that are very much part of Lighty's story, which only come to the forefront near the tail end of the narrative.
Like its subject, Mogul isn't perfect. But the podcast certainly pushes the genre, and the form, firmly into new horizons. With a sense of grand ambition and clear purpose, Reggie Ossé and his team have created something special that you really shouldn't miss. It feels like it's the beginning of much bigger things.