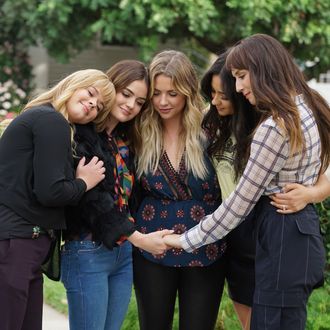 Photo: Eric McCandless/Freeform
Pretty Little Liars is no more: The signature drama of Freeform (and before that ABC Family) signed off on Tuesday, scoring its biggest audience (1.45 million same-day viewers) in nearly 18 months. While those numbers don't compare to the audience the show attracted at its peak — nearly 4 million at one point — the series remained a powerhouse for Freeform right up until the very end.
Last week's penultimate installment of PLL was cable's No. 1 show among millennials, out-rating younger powerhouses such as AMC's Fear the Walking Dead and HBO's Silicon Valley. What's more, even in its final season, the Rosewood regulars drew two or three times as many linear millennial viewers as Freeform's much newer spring and summer shows. While Freeform won't collapse without PLL, the show's absence will absolutely be felt, appropriate for a series that played such a major role in transforming the network once known best for its Gilmore Girls reruns.
When PLL premiered in 2010, ABC Family was about four years into a strategy of targeting older teen and 20-something viewers with original scripted programming. The network had enjoyed some mild successes up until then, including Greek, Kyle XY, and, most notable, The Secret Life of the American Teenager. Although it had started to shed the image, reinforced by its name, that it was all about wholesome, family-friendly fare, PLL was to ABC Family what The Walking Dead was to AMC: an overnight blockbuster that forever changed the network's relationship with audiences. As then–ABC Family chief Kate Juergens told The Hollywood Reporter back in 2014, "It allowed us to get sexy in a way we hadn't before and it opened the door to a more sophisticated kind of programming."
That's exactly what followed. While post-PLL programming didn't necessarily clone the original's soapy formula, a new generation of shows made more noise and took more chances than most of the network's previous efforts. Switched at Birth, debuting a year after PLL, actually broke its predecessor's premiere-ratings record. The Fosters and Stichers also found their groove, while more recently PLL was used to launch the new hit Shadowhunters. And when ABC Family was rebranded as Freeform in January 2016, the newly named network debuted the same night as PLL's midseason premiere.
The PLL template has not proven easy to duplicate though. A spinoff, Ravenswood, lasted just one season. Likewise, an attempt to get PLL's young, female audience to watch a broader-skewing, more critically admired drama — the late, lamented Bunheads — was cut short after just 18 episodes. But whatever Freeform's various programming successes and failures since PLL, what's remained constant is that audiences now see the network in a fundamentally different way. A channel without much of an identity before has become a powerhouse among millennials, particularly millennial women.
Beyond its impact on the Freeform brand, PLL will be remembered for another significant contribution to TV in the 2010s: It decisively demonstrated the power of social media to attract and keep audiences. Years before Sharknado rode Twitter's trending-topics list to a multi-year TV-movie franchise, PLL paved the way for modern-day fan engagement. It was huge on Facebook from the start, and as Twitter (and Instagram and Snapchat) all took off, audiences migrated with the show to the newer platforms. Even as ratings have declined a bit since 2010 — like virtually every show on TV — PLL's dominance of social media never waned. Last year, a study from ListenFirst Media declared PLL the most social show on television — by a lot. The show's estimated 256 million social interactions were more than runner-ups The Walking Dead (145 million) and Teen Wolf (70 million) combined.
Part of the reason PLL did so well, of course, is because so much of its audience is comprised of social-media natives, viewers in their teens and early 20s who've never really known a world where they couldn't post, tweet, or Instagram their reactions to a show. Still, PLL producers and talent were savvy about leaning in to emerging platforms, making sure to interact live with audiences years before Shonda Rhimes & Co. elevated the art of live-tweeting. (Want more proof of PLL's Twitter primacy? Its official feed has over 4 million followers, about four times that of Scandal, despite the ABC show's much larger overall audience.) While social media probably wasn't responsible for making PLL a hit, there's little doubt the show's massive online presence kept audiences engaged and invested over the years. No wonder PLL ended its run this week with the rare distinction of signing off as its network's No. 1 show. That's an A-plus achievement, for sure.