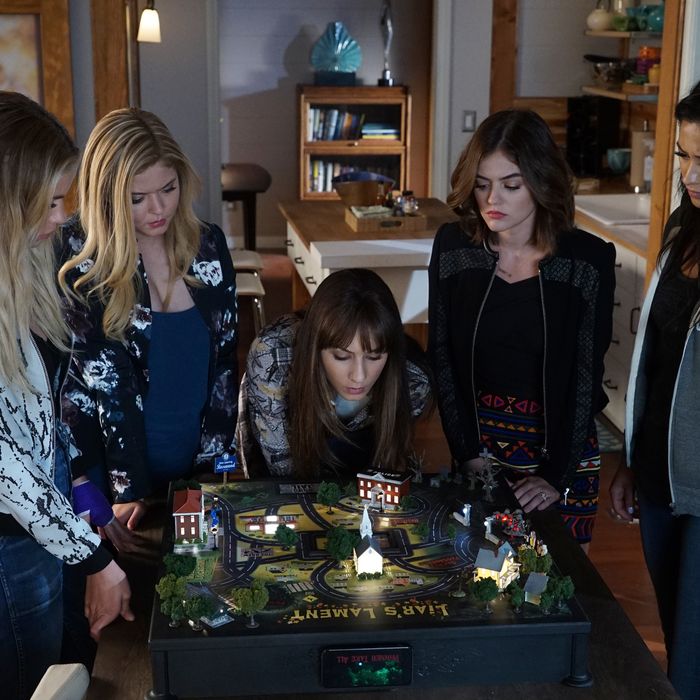 Photo: Eric McCandless/Freeform
Now that Freeform's Pretty Little Liars has finally bowed out after a formidable seven-year run, it's natural for fans to feel a bit apprehensive about where our beloved Rosewood inhabitants might pop up next. (So what if they were fictional characters? It was one hell of a tumultuous narrative!) But fear not: The Liars have some pretty cool projects on the horizon that are sure to delight the devoted PLL fan base. What can we expect from them in the upcoming year? Find out below.
Troian Bellisario
Bellisario has three diverse projects in the works: She'll be a lead in two movies, the sci-fi Clara and the action-adventure Chuck Hank and the San Diego Twins, which tell the stories of a talented astronomer and a dystopian turf war, respectively. Perhaps most prominently, she'll be making her debut as a screenplay writer in Feed, in which she's also starring opposite Tom Felton. The film revolves around high-school-age twins who are "born into a world of privilege and high expectations," but face an unexpected tragedy during their senior year that tears them apart.
Lucy Hale
With a new TV series and three films on the horizon, Hale has lined up quite a busy schedule in the coming months. For the CW, Life Sentence is described as a dramedy about a young woman, played by Hale, who's diagnosed with terminal cancer and "finds out that she's not dying after all and has to learn to live with the choices she made when she decided to 'live like she was dying.'" This year, Hale will also star in the films Dude (a coming-of-age high-school dramedy) and Miles (a sci-fi drama); in 2018, you'll also see her on the big screen as the lead in Truth or Dare, a horror movie about a "supernatural version of Truth or Dare" that won't stop following a college student when she returns home from a vacation in Mexico.
Shay Mitchell
Mitchell's next role is in the horror-thriller film Cadaver, where she'll play a disgraced ex-cop and recovering addict just out of rehab "who must take a graveyard shift at the morgue in the hospital where she got sober." As you might imagine, violent murders on the job ensue. She's also in the midst of writing another book, and continues to upload original videos to YouTube.
Ashley Benson
Though Benson hasn't solidified her post-PLL plans just yet, she recently made the move from Los Angeles to New York and plans to "continue doing film." Plus, she's got a lifestyle and entertainment blog, XOBENZO.
Sasha Pieterse
"I've got an exciting thing happening that I can't tell you about yet, but you'll love it," Pieterse recently teased. Besides that mystery project, she's keeping busy with her food and lifestyle blog, Sasha in Good Taste.
Janel Parrish
Parrish scored a prime supporting role in the upcoming drama Tiger, which follows a boxer as he fights back against the commission that banned him for his beliefs. The film was inspired by the story of a Sikh boxer named Pardeep Nagra, who was banned from the sport for not shaving his beard.
Ian Harding
Hot off the tail of releasing a humorous memoir about his life, career, and passion for birds, Odd Birds, Harding is set to star in two genre-bending projects due out later this year: Office Uprising is a film about an energy drink at a weapons factory that turns employees into zombies, while Flip the Script is a comedy web series that flips gender norms in the entertainment industry.
Tyler Blackburn
Blackburn's first post-PLL role is a film adaptation of Michael John LaChiusa's musical Hello Again. In it, he'll play one of the "10 lost souls who skip across 10 periods in New York City history, slipping in and out of one another's arms and beds."
Tammin Sursok
Sursok is acting and directing her own scripted web series called Aussie Girl, which is loosely based on her own experiences as an actress who moves from Australia to Los Angeles. She also has a YouTube channel dedicated to original videos about motherhood and food.
Keegan Allen
Though Allen has landed a handful of supporting television and film roles over the past year — such as Actors Anonymous and Major Crimes — it's not yet clear where he'll take his post-PLL career. He's passionate about photography and released a photo book, life.love.beauty, two years ago.