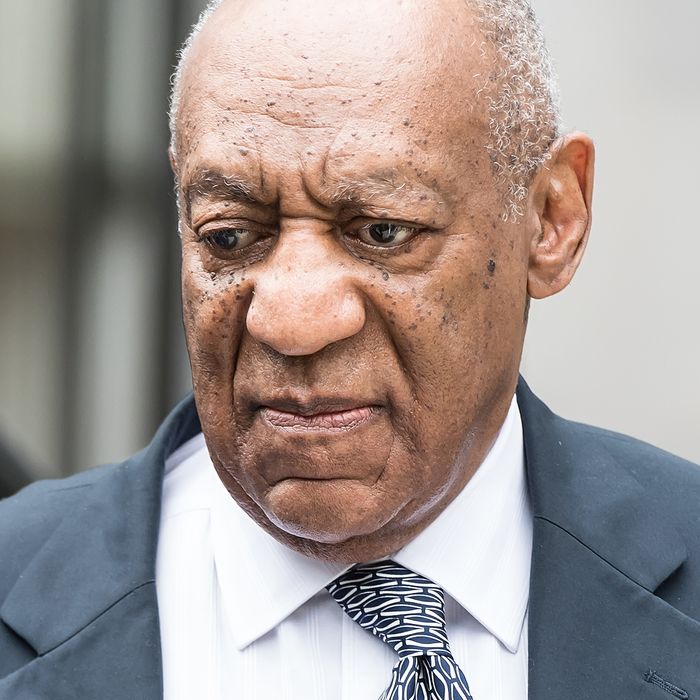 Photo: Gilbert Carrasquillo/WireImage
The Montgomery County District Attorney's Office confirmed today that prosecutors will retry Bill Cosby on the three felony indecent sexual assault charges. The 79-year-old's criminal trial ended this morning in mistrial just outside of Philadelphia, Pennsylvania. D.A. Kevin R. Steele, the prosecutor in the case, promptly held a press conference, vowing that he would seek justice in a new trial against Cosby.
"It's really a do-over," Steele told reporters before noon at the courthouse. He confirmed that Cosby's accuser Andrea Constand, a former sports director from Temple University, has agreed to cooperate with his office.
Cosby is accused of drugging and sexually assaulting Constand in his suburban Philadelphia home in 2004.
"As the court indicted," Steele said today, "just because a verdict was not reached in one case does not mean it won't be reached the second time around." He would not comment on why the jury was unable to come to a conclusion after more than 50 hours of deliberation, but he did say that it was in the community's best interest to retry the case.
"This is a case about drug-fueled sexual assault," said Steele. "It doesn't matter what you look like or who you are. Our job is to follow the evidence where it takes us."
It's likely that the evidence will take the case right back into the Montgomery County Courthouse, the site of much activity the past two weeks since the Cosby trial got started. It's also expected that the judge from the first case, Steven O'Neill, will preside over the second trial.
Answering concerns about the cost of retrying such a high-profile case in the sleepy burb of Norristown, Steele was adamant. "You can't put a price tag on justice," he said. "Nobody is above the law."
There's no word on how or when a new jury will be selected.
For the first case, the prosecution and defense looked to Allegheny County for jurors who would be unbiased about the case. Steele said ultimately a juror would need to "put aside whatever they know and then evaluate the case based on what they hear in the trial."
Cosby's trial, which lasted for about a week with a second week of deliberations, included 13 witnesses, including Constand – who was grilled for seven hours. Cosby never took the stand in his own defense.
After the mistrial announcement was made, Cosby's spokesperson Andrew Wyatt told a crowd outside the courthouse that Cosby's "power is back. It has been restored." With the former TV dad standing beside him on the courthouse steps after a rainstorm, Wyatt told high-powered attorney Gloria Allred, who represents 33 Cosby accusers (she's bringing a civil suit against the comedian for allegedly raping a 15-year-old in 1974), to "go back to law school." Cosby's civil case is expected to start sometime this summer in Los Angeles.
There is no word when the criminal retrial will get started in Pennsylvania.