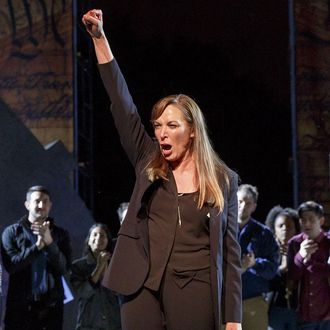 Elizabeth Marvel as Antony.
Photo: Joan Marcus/Public Theater
Right-wing protesters once again interrupted the Public Theater's production of Julius Caesar at the Delacorte Theater in Central Park Sunday night in response to its decision to style Caesar, who is stabbed midway through the play, after President Donald Trump. According to the New York Daily News, the two disruptions occurred early in the play. First, a protester named Jovanni Valle jumped onstage and shouted "liberal hate kills" and "Goebbels would be proud." Later, 28-year-old Salvatore Cipolla climbed onstage and also shouted "Goebbels would be proud." Both were quickly escorted offstage by security and have been charged with criminal trespass and disorderly conduct. Their protests echo those of right-wing bloggers Laura Loomer and Jack Posobiec Friday night. Loomer ran onstage during the play's assassination scene shouting "stop the normalization of political violence against the right," while Posobiec filmed her and shouted "You're all Nazis like Joseph Goebbels" and later, repeatedly, "Goebbels will be proud." (Goebbels was Hitler's minister of propaganda.)
Sunday night was the closing night of the production, which has been surrounded by controversy throughout its run. The show was first denounced by right-wing media such as Breitbart and Fox News, leading corporations like Delta and Bank of America to pull sponsorships from the Public Theater. In response that outrage, which centers on the idea that this production promotes violence against Trump, the play's director Oskar Eustis, who also happens to be the Public's artistic director, has said that Julius Caesar "warns about what happens when you try to preserve democracy by non-democratic means" and the Public has issued a statement standing completely behind the production. Meanwhile, theaters across the country have received hate mail and death threats over their own Shakespeare productions, in seemingly misdirected outrage over New York's Shakespeare in the Park.
After the protesters were escorted out Sunday night, "the show continued to cheers and applause" according to a statement the Public made to the Daily News. This summer's next Shakespeare in the Park production is of the comedy A Midsummer Night's Dream, which will surely be less controversial, unless someone decides the forest should have single-payer health care.