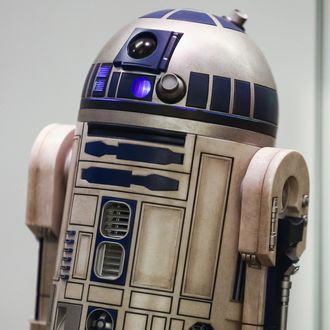 A very expensive droid.
Photo: Gallo Images/Getty Images
Today somebody bought a non-functioning robot for nearly $3 million. According to The Hollywood Reporter, a 42-inch R2-D2 was on the auction block with other Star Wars memorabilia, including Luke's lightsaber (unclear whether it would shoot a green or a blue blade) and Darth Vader's helmet (James Earl Jones's voice not included). The R2-D2, who was indeed the droid someone was looking for, was built out of parts compiled from various versions of the character that were used during the filming of the original trilogy. With the $2.76 million price tag, which was a good deal higher that the auction house's estimated highest big of $2 million, the buyer better invest in a sizable insurance plan — we hear it has a history of being kidnapped by Jawas.