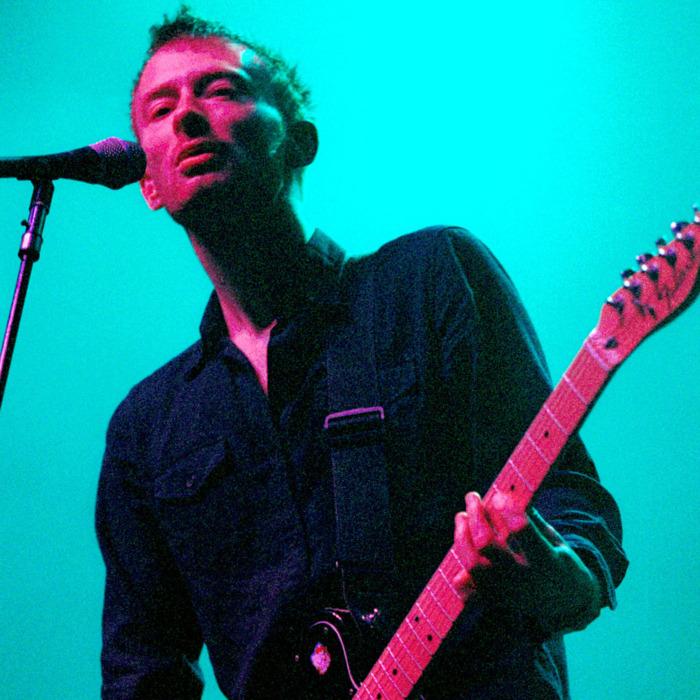 The members of Radiohead first met in boarding school, and it's not surprising that a certain hierarchic and educational mythos hovers about the world evoked by the band's music. It's not like Harry Potter: There's no magic or heroism involved, nor any elaborate backstory. But the story the band tells is no less potent for its brevity: The authorities, pitiless and obtuse, have somehow gotten their voices into your head. Often, Thom Yorke's lyrics are possessed by an unnerving ambiguity: Is it the overbearing headmaster or the submissive pupil who's speaking? When the messages are harsh ("Don't get big ideas, they're not going to happen," "This is what you get when you mess with us") and repeated like lessons but the voice itself has an almost parodically mewling tone, there's no way to be sure. Radiohead achieved greatness by blurring the profiles of the monumental and the meek. It wasn't the only way they did it, but it was probably the most effective.
1997's OK Computer is generally acknowledged as the point when the band reached maturity by threading ominous new vibes through the plaintive feeling it had already mastered; its 20th birthday is being celebrated by Radiohead with a remastered re-release freighted with B-sides and demos, one of which, "I Promise," debuted last night on British radio and is now available for streaming. Though "I Promise" rotated through concert set lists in 1996, it failed to make the cut for OK Computer. It's not too hard to see why: The song lacks the scale and ambition that typified that album's music. Acoustic and subdued, it shares more in common with tracks like "Thinking About You" from Pablo Honey or "Fake Plastic Trees" and "Bullet Proof … I Wish I Was" off The Bends than it does with anything off of OK Computer. It's a spare song with spare lyrics — you could legibly inscribe all the words on a napkin with much room to spare. Serving as an attachment to an anniversary re-release was probably the ideal placement for it.
That being said, the song is good, and there's more to the song than its handful of lines might suggest. Spareness can be scary, and the constant termination of each line with "I promise" soon ceases to feel reassuring. Danger creeps into the picture, interspersed with irony and the indefinite: How desperate does one have to be to make so many promises, and who can tell how sincere all those commitments are when they are, or might be, coerced? In the end, a lesson is learned, and disaster is compounded by disastrous loyalty: "Even when the ship is wrecked, I promise / Tie me to the rotten deck, I promise." Give OK Computer due credit for envisioning a future of boundless loneliness amid universal trade, transport, and communication, but "I Promise," with its pledge of allegiance to terrible powers one's helplessly bound to, feels every bit as prescient and contemporary.