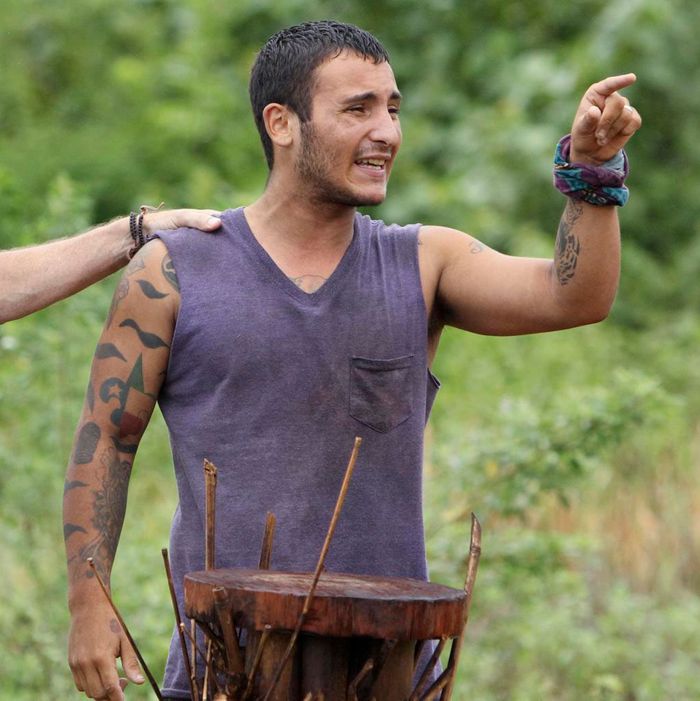 Brandon Hantz (right) with host Jeff Probst after terrorizing his castmates on Survivor: Caramoan.
Photo: CBS
We don't yet know exactly what happened on Bachelor in Paradise. Unverified reports suggest a cast member was sexually assaulted while she was unconscious or so drunk she couldn't consent, and a producer filed a complaint with the show's parent company. Cast member Corinne Olympios has identified herself as "a victim" and said she has no memory of what happened; the other contestant involved, DeMario Jackson, said news reports contain "false claims and malicious allegations." Production has shut down, and an investigation is underway.
Whatever happened on Bachelor in Paradise, one thing is clear: Violence and assault have been filmed for our entertainment many, many times in the past. Here's a look back at some of American reality TV's lower moments — in some cases, the producers intervened, and in others, they let the cameras roll.
1998: Stephen slaps Irene on The Real World
As Irene McGee left The Real World Seattle, cast member Stephen Williams — whom she'd just outed as gay (he eventually came out years later) — ran up to the car, opened the passenger door, and hit her in the face. The crew kept filming and showed the footage to the cast, who decided Stephen must get anger-management counseling.
1999: Ruthie drives drunk on The Real World Hawaii
Binge-drinking cast member Ruthie Alcaide drove back to the cast's house drunk after refusing to take a cab. Instead of stopping her, the production followed and filmed her speeding and swerving down the road. The intervention came the next day when producers required her to go to counseling. Later that season, after being confronted about her drinking by a fellow cast member, she threatened to jump off a balcony and kill herself.
2001: Big Brother 2's drunken make-out death threat
Houseguests Justin Sebik — who'd previously threatened other contestants — and Krista Stegall were drunkenly kissing in the kitchen when he held a knife to her throat and said, "Would you get mad if I killed you?" He was expelled from the house — though not immediately.
2005: Danny Bonaduce attempts suicide on Breaking Bonaduce
Cameras captured Partridge Family star Danny Bonaduce threatening the show's crew members and his wife, Gretchen. Filming stopped after she asked the crew to leave. That's when she told her husband she wanted a divorce, and that's when Bonaduce slashed his wrists. Production on the show didn't end, however, because Gretchen asked them to continue filming their lives. "I wanted to use every leverage that I could to get him to get help. Because Danny loves to be on TV," she told the New York Times.
2006: Pumkin spits on New York during Flavor of Love
A verbal altercation during an elimination turned physical when Brooke "Pumkin" Thompson spit on Tiffany "New York" Pollard, who then shoved Pumkin and sent her hurtling into a camera. Flavor of Love broke the fourth wall to show crew members preventing further physical contact.
2007: A drunken head-shaving attempt sends a Top Chef home
During off time, four of the final five chefs on Bravo show's second season got drunk and tried to shave Marcel Vigneron's head. Tom Colicchio later called it a "cruel" "act of juvenile intimidation" and said he wanted those four chefs to be eliminated, meaning Marcel would have won by default. But only Cliff Crooks, who tackled Marcel and put him in a headlock, was sent home.
2007: Eventual Big Brother winner spends summer harassing the cast
Big Brother 8 cast member Dick Donato used harassment (including racist and homophobic language) and threats toward other contestants as a strategy and took his harassment of one female contestant to the next level by dumping iced tea on her head. CBS and producers did nothing — Big Brother's story line that summer was Dick reuniting with his estranged daughter, Danielle. He eventually won, which included $500,000 prize money, and was unapologetic about his behavior.
2010: Teen Mom charged with domestic violence
Twenty-year-old Amber Portwood was arrested for felony domestic violence after MTV broadcast footage of her repeatedly physically assaulting her 24-year-old boyfriend Gary Shirley, including punching him while their 1-year-old watched and cameras rolled. She eventually spent time in jail. Amber remains a cast member on the show, now called Teen Mom OG.
2011: Challenge cast member sues over harassment and toothbrush rape
Real World/Road Rules Challenge: The Ruins cast member Tonya Cooley sued the show's production company, MTV, and fellow cast members Kenny Santucci and Evan Starkman, saying they "forcibly removed" her bikini top and later, after she'd passed out, assaulted her with another cast member's toothbrush.
Her lawsuit detailed how the production "provided unlimited alcoholic beverages" and encouraged "outrageous behavior." Viacom blamed Cooley in a court filing, saying she "was frequently intoxicated (to an extent far greater than other contestants), rowdy, combative, flirtatious, and on multiple occasions intentionally exposed her bare breasts and genitalia to other contestants." They settled in 2012.
2012: Two Hantzes expelled from CBS shows for violence
Survivor villain Russell Hantz's brother, Willie Hantz, was expelled from the Big Brother house after head-butting another contestant. He'd previously verbally assaulted cast members, thrown food at others, and threatened to "knock somebody out." That same summer, Hantz's nephew, Brandon, was filming Survivor: Caramoan; he was brought back to compete even though host Jeff Probst acknowledged he was "combustible" (Probst said Brandon passed psychological tests). Brandon proceeded to destroy his tribe's food and threaten violence, terrorizing them until they decided to throw a challenge just to get rid of him. But he still wasn't removed from the game. Probst instead made it into a sort of dysfunctional talk show segment, asking charged questions even though other contestants were clearly upset.
2015: Real Housewives of Atlanta threatens domestic violence
Cast member Apollo Nida was supposed to turn himself in to federal prison after being convicted of fraud, but he went to his wife Phaedra Parks's house instead, yelling, screaming, and slamming on doors. While cameras filmed, he brandished a drill and demanded, "Do not call the police." The producers did nothing on camera and continued filming.
2016: Big Brother airs a montage of sexual harassment
Big Brother 18 contestant Frank's harassment of women, including unwanted touching and verbal abuse, was highlighted during an episode of the CBS show. His behavior left one houseguest in tears in the private Diary Room, where she told producers she had to tolerate his behavior so it wouldn't affect her game. Frank later apologized but insisted he was joking: "My intentions were all good." As far as we know, producers didn't interfere to stop the harassment on camera.
2016: Chad Johnson sent home from Bachelor in Paradise after threats
Chad Johnson was sent home from The Bachelorette 12 not by producers, but by JoJo, after his aggressive and cruel verbal taunting of the other men culminated in his threatening Jordan by saying, "When you go home, you think I can't find you? You think I won't go out of my way to come to your house?" Even after JoJo sent him home, producers allowed him to return to the house to confront his fellow contestants one more time. Then he was cast on Bachelor in Paradise, where he was again kicked off for his aggression, which included telling the show's host behind the scenes, "Fuck you, Chris Harrison. Come at me."
"Can't believe it happened again," Chad said to a crew member, of being cut again for aggressive behavior. But of course it happened again: Why else would a volatile person be invited back if not to create dramatic television?