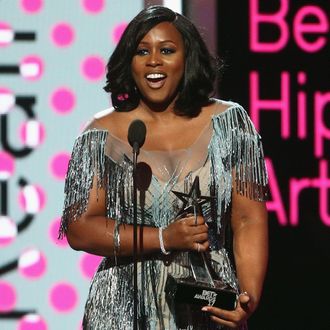 The people have spoken.
Photo: Frederick M. Brown/Getty Images
It's one thing to sway the court of public opinion by publicly condemning your enemy with various diss tracks; it's another to have your peers declare a winner. At last, the (black) people have spoken: After an unprecedented seven-year run, Nicki Minaj is no longer the Best Female Hip-Hop Artist according to the BET Awards. At last night's ceremony, Remy Ma beat her once and for all, winning that award for the first time since 2005. Minaj has won the category every single year since she was first nominated in 2010, and is usually in attendance for her expected victory laps. However, tellingly, Minaj announced days prior to the show that she would only be attending one award show this month and it's the inaugural NBA Awards tonight, hosted by Drake, where she is also performing; Minaj also spent Sunday boasting herself as the "most awarded female rapper in history." In her speech, Remy Ma doubled down on the subliminals: "Y'all bitches got fat while we starved. Shots in your ass, pads in your bras. Y'all some liars it ain't no facts in your songs. And yeah that crown is coming back to the Bronx." The streak is over, but this feud has no end in sight.