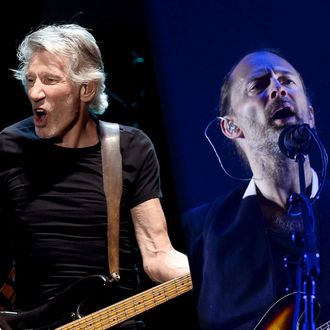 This isn't over.
Photo: Getty Images/Getty Images
Today in political-rock-star beef, Roger Waters has responded to a bitter interview Thom Yorke gave to Rolling Stone about Waters's public criticism of Radiohead's controversial decision to perform in Israel next month. Waters says Yorke's statement, in which the Radiohead front man called criticism of his band's plans to play Israel "deeply disrespectful" and "patronizing in the extreme," "doesn't tell the whole story," and that despite Yorke claiming Waters only petitioned the band in public, there was personal correspondence beforehand.
Waters says he emailed Yorke in February "hoping to start a dialogue" and it did not go over well. "A few hours later, Thom replied. He was angry. He had misinterpreted my attempt to start a conversation as a threat. So I tried again," Rogers says. He sent a follow-up email apologizing for coming off as "confrontational," but Yorke never responded. Rogers says he then sent one more "long heartfelt entreaty to Thom asking him again to talk" in early March after weeks of silence and, as such, Yorke should not have felt so blindsided by the petition that followed, in which Waters, Thurston Moore, and even Archbishop Desmond Tutu called on Radiohead to cancel their show in Tel Aviv to protest the treatment of Palestinians, which the petition likened to apartheid conditions. "That is not true, Thom. I have made every effort to engage with you personally, and would still like to have the conversation," Waters says, then quoting himself: "Not to talk is not an option." If only Waters had thought to send Rolling Stone a fax.