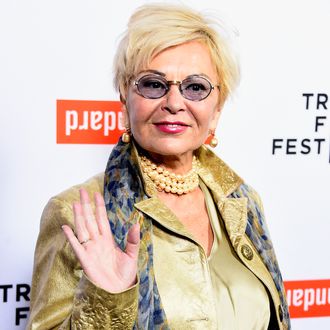 Roseanne.
Photo: Frazer Harrison/Getty Images
Despite some reports and assumptions floating about, Roseanne Barr denies any interest in turning the eight-episode Roseanne revival into a family comedy where the whole Connor clan sits around talking about how much they love President Trump. Though the characters are blue-collar Midwesterners, a group of Americans that surprised political pundits and pollsters by voting en masse for the Republican candidate, Barr denies making the show about their politics, tweeting, "My new show is not about Trump! It's about a midwestern family."
During the 2016 election, Barr, herself a former presidential candidate with the Peace and Freedom Party, came out as a fan of certain aspects of candidate Trump, including his immigration policy. The actress said Americans "would be so lucky" if Trump won "because then it wouldn't be Hillary." Furthering the rumors that Trump might play a part in the reboot, ABC Entertainment president Channing Dungey told The Hollywood Reporter, "Thirty years ago, Roseanne was speaking very openly about her life and her challenges. And it's a perfect time to have that voice back to talk about the realities now." She added, "What the election revealed was that there's parts of our country that didn't feel heard, that they didn't have a voice. When you look at how the polling data went in the run-up to the election, it was kind of a big surprise to many people that the election turned out as it did."
So while you might catch a glimpse of how a Trump voter in the Midwest lives through Roseanne, maybe don't expect to see John Goodman sporting a red hat in his first episode back as Dan Conner.