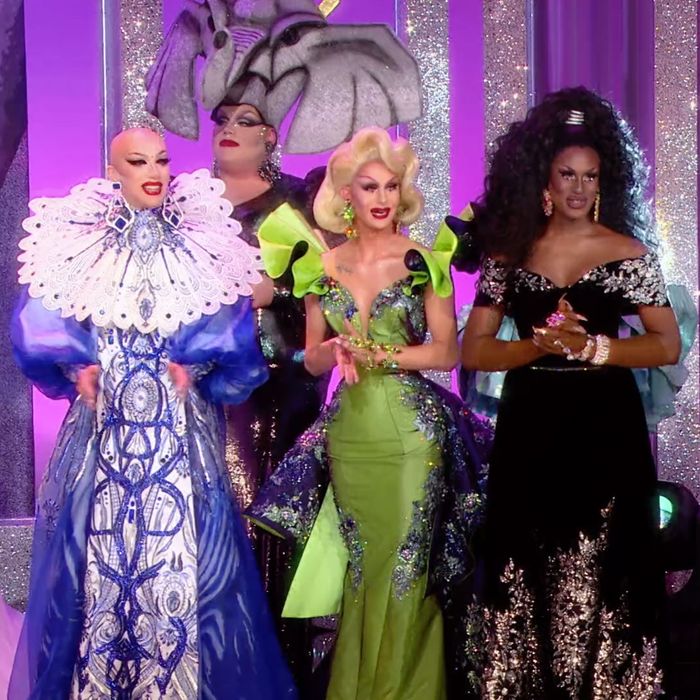 Photo: Rupaul's Drag Race/VH1
Praise whatever gender-neutral god y'all worship, because we've finally made it. After an exhaustingly long season, here we are, crawling across the finish line. Season nine of RuPaul's Drag Race has the interesting distinction of being the first season whose outcome became less clear as more queens were pruned away. In a post-Valentina season, it seemed clear to much of the internet that Shea Couleé was clearly the front-runner to take the crown, much in the same way Bob the Drag Queen and Bianca Del Rio were preordained in their seasons. Whether this was said in celebratory terms or begrudging grumbles from those in Sasha or Trinity's corners, the inevitability of her win seemed to shape a lot of the online conversations I followed. But tonight, with the introduction of a brand-new finale structure, we all learned a hard lesson about counting metaphorical chickens before they hatch.
If you've been following my recaps from the beginning, you know I wasn't exactly titillated by every member of this year's top four. However, while ya boy will never admit that (based on overall season performance) all these queens deserve to be here, the number did provide one of the most engaging finales in a long while. A mix of the large-scale, lip-sync pageantry introduced in season seven with the more merit-based, head-to-head lip-syncs of earlier seasons, this finale seemed poised to be one of the most satisfying conclusions of the series. The specially created lip-sync performances we've witnessed for the last two years were certainly entertaining to watch — I revisit Fat Fem and Asian frequently in my weekend YouTube K-holes — though, it was unclear exactly how much they factored into the crowning. What's more, the seemingly arbitrary decisions of the past several seasons made those finales some of the least interesting Drag Race episodes to watch.
Of course, with all the excitement comes a few cons as well. Although it was a good deal more satisfying to watch, the tournament-style elimination format essentially gave us a top-two instead of a true top-four — and if you have a dirty little Reddit queen in your life, you may have been spoiled ahead of time about who those top-two queens ended up being. After filming two alternate endings this season, the internet has had nearly two full weeks to disseminate that information and simmer with rage about their faves being eliminated too early.
But I'm getting ahead of myself. Let's back up and start from the beginning. It's my favorite moment of every single finale: getting to see them drag out all the season's old queens looking as good as they'll ever look. Nina looks stunning if off-brand, and Cynthia is giving us what is the first truly good Cynthia look on the history of the show. Congrats, Cynthia!
We then move on to the traditional interview portion of the evening. By airing the full reunion last week, we actually get more time with each queen, giving these moments a little more heft. Each contestant gets a fun video message to boot: Peppermint gets Laverne Cox (the only one that feels emotional and personal), with an added appearance from the true fan favorite Winter Green; Trinity receives a playful hello from Bobby Moynihan; Shea gets what is clearly a one-take iPhone clip from Blac Chyna; and Sasha gets … Katy Perry.
Finally, the show reveals the finer details of the new crowning formula. It's not overly complicated, and the details added (the wheel, the boxes) are just enough to make the whole event feel slightly grander, though I have a hard time believing the matchups weren't selected months ago. (The songs were all given to the queens to prep, as per usual.) The wheel selects Trinity, who in turn, boldly selects Peppermint as her opponent. It's a ballsy move to choose the season's undisputed queen of lip-syncs, and at first it seems like a gamble that may pay off. Trinity is certainly giving us a lot of tricks and hair flips while Peppermint doesn't seem to do much of anything. But this has always been Peppermint's strength: She knows how to build tension, never blowing her load too early. The outcome here is certainly one that queens will argue about for a full commercial break, but you cannot deny that Peppermint's double dress/wig reveal was legendary — it was the only moment of the lip-sync that made the gay men I watched with scream in shock and delight. Trinity definitely didn't embarrass herself in this lip-sync, though. May her beautifully vacant Leo bless her for many more nights to come.
Next up is the lip-sync nearly everyone has been waiting for all season: Shea versus Sasha. This has been a much hyped and much spoiled moment and I have to say, awash in my own personal biases, that I am devastated for Shea. She's a dear friend, an incredible drag queen, and completely deserving of this crown. But after a season of lackluster lip-syncs, I have to thank Sasha for the few moments of flash and whimsy she brings here. The petals are a gimmick to be sure, but they are a moment. As compelling as Shea is to watch — seriously, go watch her live in a bar sometime — she didn't come prepared with anything that was quite as cool or in keeping with the scale of the finale as Sasha did.
Here's the worry that I have now: If this little experiment continues, will the finales become less about a queen's overall performance in a season and more about whoever provides the flashiest reveal? Maybe that's a good thing, maybe not. I'm drunk on rosé, so I could be pushed into literally any direction right now.
So, Sasha Velour is America's next drag superstar. Let's talk about that, because there really isn't much left to talk about. Aside from the legion of Sasha fans who pushed her into the social-media lead over the last couple of weeks, did anyone envision this top-two going into the season? Absolutely not. Does this make the show more exciting for you? I'm really asking. For me, I'm unsure.
This finale format fundamentally changes the nature of the show in a couple of ways. By the third lip sync, you realize that you're getting a chance to see how a queen like Sasha would actually perform out in the wilds of Brooklyn. Both of her performances are rehearsed, sharp, and have a POV. Would she have won a lip-sync if she were in the bottom two of the season, scrambling to remember the words in whatever thrift-store garb she had worn for that particular challenge? We'll never know, but she definitely wouldn't have the creative edges that she displays here. If Drag Race moves forward with this format, it will be interesting to see how future queens will similarly bring their own curated styles to the mainstage.
It's no secret that I'm not a huge Sasha stan. She's clearly a great drag queen, but I don't think she made great TV — well, up until she finally did tonight. In the context of the entire season, I'm not sure I love that the queen who had her first truly memorable moment at the very last second took it all. Nor do I believe that she is as unique as her fans believe. What does Sasha offer that Sharon or Alaska didn't? Sure, Sharon never put a house on her head, and I guess she's nicer than both of them, but does that really matter? Again, I am but one screaming queer in a bar full of screaming queers, writing a recap on my phone, so for the last time this season I ask: What the hell do I know?
Maybe not a lot. But I do know this: Anyone who appeared in the C.L.A.T. video should automatically be disqualified.