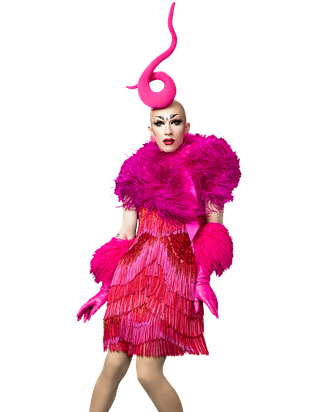 Sasha Velour had a lot to celebrate this past weekend. She won the ninth season of RuPaul's Drag Race, turned 30, did a bunch of Pride events in New York, and finally got to spend some much needed quality time with her dog, Vanya. ("I kissed his face a bunch and was like, 'You're a prince now.'") But back to that first thing! Last Friday, Sasha took home the title of America's Next Drag Superstar, beating Trinity Taylor, Peppermint, and heavily projected winner Shea Couleé with a series of captivating lip-sync performances. A few days into her reign, Vulture caught up with the brainy queen from Brooklyn to see where her head's at.
You said that "drag is the art form of the queer imagination." Did you ever in your wildest, queerest imagination think you'd win RuPaul's Drag Race?
I didn't quite believe that it would be possible. When I would watch the show as an audience member, I didn't know whether my drag really had what it takes to win. I didn't know whether my drag would even be allowed to win. What we do in Brooklyn doesn't completely follow the trends of drag. It pushes up against the rules of who's allowed to do drag and what drag is allowed to look like. Going into the finale — really, the entire show — I wanted to honor and represent that community of drag that I'm a part of and show that with a fighting spirit and a determination to put on great shows, you can succeed. That's what drag is all about. That's what Brooklyn drag is all about, for sure. I went into the finale with that intention, so I was very happy it led me to the win.
What will bring to the title of America's Next Drag Superstar that we haven't seen? What do you do that no other queen can? I mean, we know it's not doing Alexis Michelle. Nobody can do Alexis Michelle like Alexis Michelle.
Right? [Laughs.] Truthfully, all of us can only do ourselves. The reason why we're all cast on the show is that we are all unique individuals. For me, my greatest weakness is also my greatest strength: I'm a complete overthinker about everything. I learned, in the course of doing this show, that I shouldn't let thinking and intellectualizing stand in the way of being funny or being captivating. At the same time, my brain is a powerful tool. My unique way of thinking has helped me create and produce and curate amazing drag at "Nightgowns," my monthly show here in Brooklyn. Right now, I'm looking for ways to transform these theatrical drag fantasies into really powerful, political stuff.
What do you mean?
My show "Nightgowns" has always been a celebration of what we do here in Brooklyn. I'm going to expand that into something that goes beyond Brooklyn, that connects the drag that exists in small towns with the drag that exists in big cities around the country — some day, perhaps, the whole world — and blur these boundaries a little more. I'm also transforming the show into a nonprofit that will create educational fellowships for queer and trans people and help them find housing. I've been doing that on a smaller scale for a while, using "Nightgowns" to raise money for organizations that help queer and trans people here in New York like the Sylvia Rivera Law Project. We're going to keep doing that, but become a charitable organization ourselves. I have the opportunity to make actual change by putting on amazing drag shows. [Laughs.] My favorite thing!
You talked a lot about your Russian heritage on the show. Have you ever considered going back to perform?
I have thought a lot about what I would do if I had the opportunity to go and join the drag queens that work in Russia. I follow people from those drag communities on Instagram, but it's very hard to connect with them because of the environment they live in. The level of secrecy queer people have to maintain in Russia to not just keep their careers safe, but their lives. It would be very complicated to go and do drag in Russia, but I would love to go and enrich the lives of LGBTQ people in Russia. It's definitely something I want to do in the future, but only if I can do it right and do it faithfully.
Do you have anything you'd like to say the world? Your first proclamation as queen, if you will?
I really believe in the power of playing by your own rules. Drag, at its core, is about honoring yourself and your own unique way of being a gendered, queer person. Your own unique way of using fashion to express yourself. Some people play it safe in the world of drag — I'm guilty of it myself, sometimes — but I hope to always be a voice that encourages people to buck trends, follow their instincts, and do good in the world.
This interview has been edited and condensed.