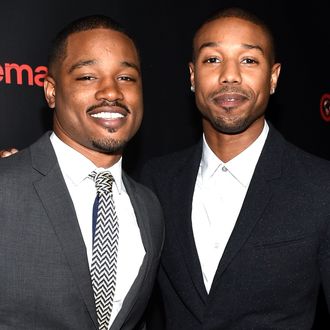 Photo: Michael Buckner/Getty Images for CinemaCon
Ryan Coogler and Michael B. Jordan have found a pretty surefire recipe for success, and it is each other. Each of Jordan's biggest successes have been with Coogler (Fruitvale Station, Creed, and the upcoming Black Panther, which will likely join that group next year), and Jordan has starred in all of the director's feature films. Now Deadline is reporting that the lights-out pair will come together for a fourth time for Wrong Answer, and they'll be working off a script from Ta-Nehisi Coates. The movie explores the true story of how educators in Atlanta gamed the No Child Left Behind standardized-testing system and ended up involved in a massive cheating scandal. Jordan and Coogler have had their eyes on developing the story for years, and now that it's come around, the actor will play Damany Lewis, a middle-school teacher and athletics coach who taught underprivileged students that failed to meet the achievement benchmarks. In order to keep his school from shutting down, Lewis joined an organized effort to help cheat the test scores higher, and he was eventually convicted of racketeering alongside ten others. Lewis will serve as a consultant on the film, which is being produced in part by Brad Pitt through Plan B.
To recap: Wrong Answer is the story of black educators fighting against a sham government mandate, brought to you by Ryan Coogler and Michael B. Jordan — who should really be under contract to make at least four more movies together to ensure our futures — plus Ta-Nehisi Coates and Brad Pitt. Okay. And this is all well before supporting characters are being cast, so stay tuned to see if any of the other dream humans from Black Panther come join their friends on set. Lupita? Danai? You busy?