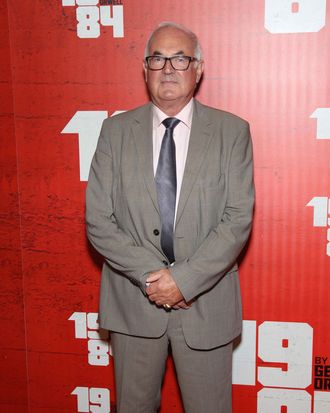 Richard Blair.
Photo: Walter McBride/WireImage
As we talk before the curtain goes up at the Broadway premiere of 1984 last week, Richard Blair apologizes for the fact that he likely won't have a strong reaction to the show. Blair, the 73-year-old son of George Orwell (a pen name used by writer Eric Blair), had seen this adaptation of his father's landmark dystopian novel when it was staged in England, and so he's prepared for the intense audiovisual elements that flood the show. He's also anticipating the inevitable questions about what Orwell's reaction to the play might have been, particularly from the Vulture reporter that was invited to sit next to him during the premiere. He jokes: "I won't stand up and shout, 'This wasn't what my father would have wanted!'"
Blair, who formerly worked in farming and now spends most of his time in a village in Warwickshire, has the amicable good manners of a contestant on The Great British Bake Off. He's in New York for a whirlwind visit that includes the opening of 1984 as well various appointments related to the Orwell Foundation and Society, of which he is a patron. The play, about two Outer Party members, Wynston (Tom Sturridge) and Julia (Olivia Wilde), who turn against Big Brother, is bigger, brighter, and louder than the version Blair saw in London. It's a striking decision, Blair says, and a sign that the Broadway production has amped-up its budget. "As long you get the book's meaning across …," he muses as we walk out of the theater, and right then he's pulled into a NY1 TV interview about the show.
A skilled talker, Blair negotiates this and several other on-camera interviews with ease. He compliments the show. He brings up comparisons between the newspeak in the text and Kellyanne Conway's use of the phrase "alternative facts," which sent book sales skyrocketing. He talks about the ways the threat of terrorism can prop up a surveillance state, an element of 1984's plot that feels particularly resonant today. He even suggests to a cameraman, who had mentioned that getting assigned 1984 in high school taught him to "read between the lines," that he should pick up a copy of Orwell's Homage to Catalonia.
Though Blair is often asked about his father's opinions, he only knew Orwell briefly, for the six years between Blair's adoption as a young child by the writer and Orwell's death at 46 in 1950. Blair discovered most of his father's writings, including 1984, afterward. "The moment somebody flatlines, all bets are off," he tells me in a cab ride from the premiere to the glimmering after-party at the Chelsea Piers. "You have no idea what somebody would say were they still alive." Though, in cases like Blair's, where an educated guess at something like Orwell's opinion holds weight, you have to "break your own rule" a bit to hypothesize. For the record, Blair liked the Nineteen Eighty-Four film, but found Lorin Maazel's 1984 opera less successful.
Blair kept his relationship with Orwell to himself until around 2009, when he first started giving interviews about his father and became more publicly involved in various organizations surrounding his legacy. He had long worked in farming and engineering, but by that time, the Orwell Foundation and various prizes had become large and involved enough to merit more intensive management. "I felt I should really be out here at the front somehow," he says. "That's what keeps me off the streets."
The after-party is full of "the great and the good," as Blair puts it, including cast members from the show, and the likes of Jason Sudeikis, David Cross, and, off by the edge of the water, Robert Pattinson, in a baseball cap smoking a cigarette. Blair takes a few more steps, poses for more photographs, answers another round of questions, and then heads inside for victory gin, as it were. A guest asks Blair how he handles all the press, and Blair says he has various ways of bumbling through. "One trouble with multiple cameras," he tells her, "is that you don't know where to look first." Orwell couldn't have said it better.