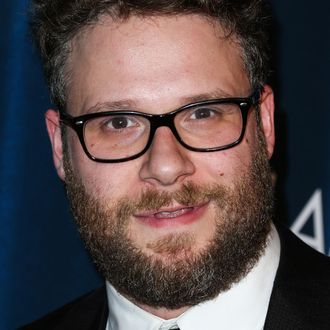 Photo: Xavier Collin/Image Press/Splash/Corbis
Sometimes, the finest feuds to grace Hollywood are developed from years of bottled up jealousy and a healthy dose of pain. This is not one of those times. Taking to Twitter on Saturday morning, noted funny guy Seth Rogen revealed something that seemingly came out of nowhere: Another "funny" guy, Rob Schneider, dislikes him so much that he blocked him on the social-media website. Why? Seriously, your guess is as good as Rogen's. Tweet him your thoughts.
Rogen's fellow comedy chums naturally thought this was hilarious, and tried to understand where the hell this unexpected animosity stems from. Rogen, for what it's worth, "honestly" has "no idea."
But wait! Hours later Schneider chimed in with his side of the story — but instead of actually explaining the reasoning behind his block, he brokered for a meeting with … Rogen's occasional film co-star James Franco.
And it worked?
We have no idea what's going on, either. Rogen has yet to respond to Schneider.