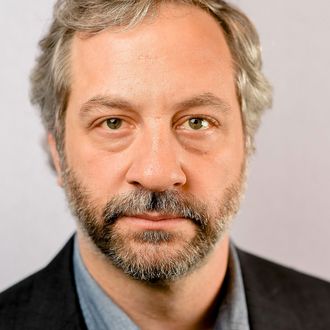 Judd Apatow.
Photo: Matt Winkelmeyer/Getty Images
Sony Pictures is reconsidering a recently announced plan to make the "clean versions" of certain movies available for purchase by consumers. At implementation, the initiative included 24 movies — such as Big Daddy, Step Brothers, Talladega Nights: The Ballad of Ricky Bobby, all of the Spider-Man movies, and Captain Phillips — in their "broadcast TV or airline version" in order to attract a more family-friendly consumer base. According to Sony, the clean cuts were only available as bonus features when a user purchased the original theatrical versions on iTunes, Vudu, or FandangoNOW. But a backlash quickly ensued, with Seth Rogen tweeting, "Holy shit please don't do this to our movies. Thanks," and Judd Apatow expressing a similar sentiment on his own profile, "This is absolute bullshit and @sony and @SonyPictures is gonna get hell for FUCKING with our movies. Shove the clean versions up your asses!"
On Tuesday, the Directors Guild of America put out an official statement condemning the move by Sony, and saying the action would violate the guild's master contract with major studios. "Directors have the right to edit their feature films for every non-theatrical platform, plain and simple," the statement read. "Taking a director's edit for one platform, and then releasing it on another — without giving the director the opportunity to edit — violates our Agreement. Throughout the years, the DGA has achieved hard-fought creative rights gains protecting our members from such practices. As creators of their films, directors often dedicate years of hard work to realize their full vision, and they rightfully have a vested interest in protecting that work. We are committed to vigorously defending against the unauthorized alteration of films."
In response to the outcry, Variety reports that Sony has amended its plan, saying that clean versions of movies will only be available to own if filmmakers provide consent first. The president of Sony Pictures Home Entertainment had this to say in a statement: "Our directors are of paramount importance to us and we want to respect those relationships to the utmost. We believed we had obtained approvals from the filmmakers involved for use of their previously supervised television versions as a value added extra on sales of the full version. But if any of them are unhappy or have reconsidered, we will discontinue it for their films." So probably none of Seth Rogen or Judd Apatow's movies will end up with that squeaky-clean seal of approval.