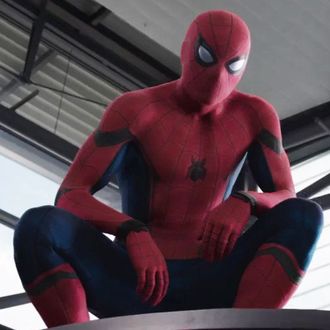 One of the few white teens in the film.
Photo: Marvel Entertainment
Though it's not commented on within the script, one of the most remarkable aspects of Sony and Marvel Studios' Spider-Man: Homecoming is its diversity. Sure, marquee star Tom Holland is as Caucasian as Caucasians get, but his group of high-school compatriots is almost totally devoid of white people: Laura Harrier, Zendaya, Jacob Batalon, and Tony Revolori are all standouts, and all are from ethnic-minority groups.
All of those performers appeared at an exceedingly well-catered press conference on Sunday morning (there were two kinds of bacon!), alongside director Jon Watts, stars Michael Keaton and Robert Downey, Jr., and megaproducers Kevin Feige and Amy Pascal — and the topic of inclusion came up about midway through.
The moderator asked Revolori (who plays a Latino version of classic Spidey character and local blowhard Flash Thompson) how working with Watts was different from working with Wes Anderson on The Grand Budapest Hotel. After some perfunctory words about how great it was to collaborate with both directors, he added, "Thank you to Jon, Amy, and Kevin for casting a 5' 8" brown guy" to play the previously white bully, to applause and whoops from the audience.
The next question, asked by Andrea Huswan of ShowBizCafe, was also directed at Revolori: How did it feel to represent the Latino community in a major franchise picture? "It's wonderful," he replied. "When you see the film, there's not a single line of exposition as to explain why I look the way I look, and I think that's wonderful. That I just am in the movie; it's not about a certain race, it's not about doing anything. I think that's the diversity we need in Hollywood now." More applause.
The air buzzing, another question about inclusion came down the pike right away, this one aimed primarily at Feige and Pascal: What was the inspiration for all the multiethnic casting? Pascal took two seconds to think, then capped off the discussion with a very matter-of-fact response: "I would say the inspiration for it was reality." The crowd laughed and cheered, and RDJ chimed in: "A last resort." But hey, better late than never.